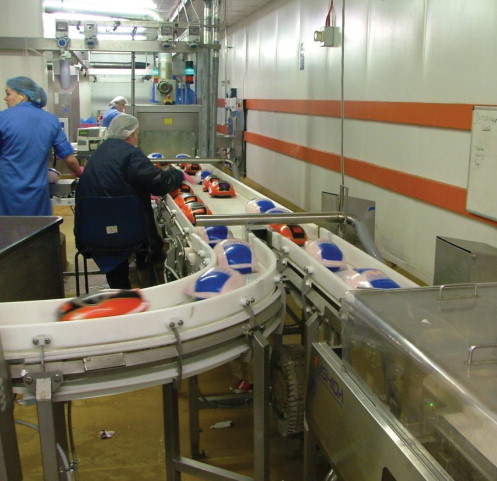 A pdf version of this article is available on the right-hand side under 'Downloads'.
Cherry Valley Farms is the largest producer of duck meat and duck products in the UK. It processes 45,000 ducks per day, weighing from 2 to 4 kg. Each duck is chilled, and the chilling plant is a major part of the factory's operation and accounts for a high proportion of its operating costs. Because of this, the manufacturer wanted to explore ways of reducing its energy costs.
"I read in a magazine about an ABB case study where low voltage AC drives had been used by Northern Foods to save energy," said Darren Bolton, operational improvement manager at Cherry Valley. "We contacted the UK government-backed Faraday Partnership to seek advice on variable speed drives, as well as ABB and its channel partner Inverter Drive Systems (IDS)." 
Avoiding interruption
In the food and beverage industry, the refrigeration plant is often the single greatest consumer of electrical power. The plant is often sold in a price sensitive market, so the users tend to use direct on-line control as standard in order to keep costs down. This means, however, that that it is much harder to vary the speed of motors and save money. Moreover, most refrigeration plant users are wary of carrying out modifications for fear of interrupting the process – and do not generally have the confidence to make the conversion to variable speed drives without specialist knowledge and support.
ABB's partner, IDS, looked at finding ways to implementing energy savings. This project initially involved setting up a seven day energy analysis of the existing direct on-line controlled condenser fans, in order to establish operating costs at fixed speed. The four fans had a combined measured power of 38 kW.
"The condenser fans are important due to the nature of the operation," said Blaise Ford. managing director of IDS. "In the first stage of the refrigeration cycle, the refrigerant high pressure liquid expands and absorbs heat from the ducks being cooled, turning into a warmer gas. This gas is then compressed. The compressor transforms the vapour from a low-pressure gas into a high-pressure gas.
"The refrigerant gas enters the condenser, where fans are used to help cool it down to atmospheric temperature and turn it back into a liquid, ready to expand and cool once again," he added.
"We used the head pressure signal to control our drive to keep this pressure perfectly at its design point, varying the fan's speed to meet the chilling demand. Previously, at Cherry Valley, this was only an on-off cycle – the ABB drives also reduce the inherent energy wasteful 'cycling' of the original control." 
Payback from installation
Cherry Valley Farms decided to install ABB standard drives, which were controlled by the existing sensors for compressor fixed head pressure. It then carried out a further seven day energy analysis and calculated the savings and payback periods. It was shown that the drives had saved 13kW in total representing an annual saving of £7,400.
As well as the energy saving on the condenser fans, the reduced on-off cycling of the refrigeration plant led to a further 10% reduction in compressor power reduction. It also significantly reduced fan noise, improving the environment for neighbouring properties.
Cherry Valley Farms has also installed drives on several other types of plant in the factory, including air compressors and water pumps, and now makes energy savings of £25,000 a year after installing £16,000 worth of ABB standard drives This represents a saving of 49.6% of the energy previously consumed by these applications. The original forecast estimated that payback would be in 12.6 months but actual payback time was only 7.7 months. 
Low motor power
There are many areas where drives could be used but IDS were excellent in genuinely only picking up on those that could really make a saving," said Bolton. "Those compressors that were working fine were left alone at IDS' recommendation. Their theoretical results were all backed up with good graphs and charts."
In the past, many end users have focussed on large power applications for their energy saving projects. This case study demonstrates that applications using motors with powers as low as 5.5kW can produce significant returns.