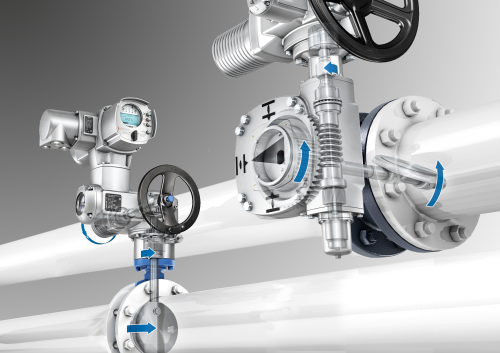 Power supply has a crucial impact on the actuator design and development. The basic principle for electric actuators is the electrical motor with integral gear unit.
Selection of suitable gearing is decisive for factors like self-locking or self-braking. In this context, following an operation command by the DCS, the actuator operates the valve to a standstill at the desired position and holds it, irrespective of any external forces on the valve. Heavy gate valve plates under the effects of gravity are an ideal example of this automation task. The same applies to manually operated valves. This self-locking issue will be dealt with in more detail below.
Electric actuators cover a large torque range. Part-turn actuators automating gate and ball valves cover the torque range of just a few Newton metres up to approx. 2,500 Newton metres. For electric multi-turn actuators with their typical gate automation, this range goes up to 32,000 Newton metres.  
Read the full article in World Pumps December
The digital edition of World Pumps magazine is free of charge to readers who meet our qualifying criteria. Please complete this short registration form to apply for your copy. Print copies of the magazine are available to purchase.