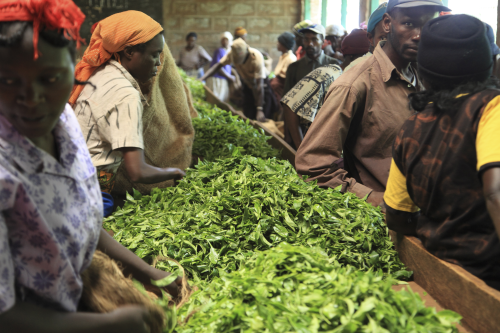 Ogembo Tea Factory Company Limited, one of the 54 tea processing factories managed by Kenya Tea Development Agency (KTDA), located along the Kisii-Kilgoris highway, 389 km from the capital Nairobi, installed a Grundfos CR15-9 vertical in-line multistage pump to regulate the manually-heated steam boilers during tea withering - the most critical process in black tea manufacture. The primary aims of withering are to reduce the moisture content of the leaf and to soften it, so it becomes pliable and will withstand the subsequent process of 'rolling', without breaking up into flakes. [School of tea]
The pump, a pick from Denmark-based Grundfos CR pump range, was installed by East Africa's largest water pump company and Grundfos partner, Davis & Shirtliff, to boost the tea factory's liquid transfer in its steam boiler feed system. The Grundfos CR 15-9 installed has a maximum flow capacity if 792 gpm and a maximum head of 995 ft. The pump, which has speed of 2900 rpm, accommodates liquid temperatures of 20° C to 120°C.
In-line design
The pump has an in-line design which enables it to be installed in a horizontal one-pipe system where the suction and discharge ports are in the same horizontal plane and have the same pipe dimensions providing a more compact design and pipe work. The Grundfos CR pumps, which come in various sizes and various numbers of stages are designed for a variety of applications from the pumping of potable water to the pumping of chemicals.
A brief user's manual by Davis & Shirtliff says for efficiency the pump is coupled to a totally enclosed fan cooled to two-phase Grundfos motor which has to comply with IEC & DIN standards: "The motor must be connected to an effective motor starter in accordance with local regulations." The pump, which has a maximum operating pressure of 16 bar, operates best when installed to pump thin, clean, non-aggressive and non-explosive liquids without solid particles or fibres.
Davis & Shirtliff's Technical manager Phillip Holi says the company has had KTDA factories as its clients for over 20 years where they have installed pumps and water treatment solutions. "We have been working with KTDA for over 20 years supplying various tea factories with pumps for their processing and general water transfer operations," he said. Shirtliff supplied pumps are used to pump both cold and warm water to the factory boilers which generate steam for tea leaf drying as well as for fermentation.
The steam boilers are heated manually to release heat which is used to dry and turn processed tea from green to brown. This process requires constant supply of cold and warm water. Once the boilers are heated, the hot air is forced over tea withering racks to evaporate as much of tea leaf's water content as possible so as to make the leaf supple. The withering process could take anything from 10 to 20 hours and usually brings down the green leaf's moisture down to between 60 per cent and 70%. Steam boilers call for proper installation, maintenance and inspection to ensure they are not subjected to corrosion, vibration and stress which could lead to their bursting or explosion.
Efficient boiler water feed pump
Ogembo Tea Factory Company Ltd sought to ensure optimum water levels in its steam boilers by seeking and installing efficient water feed pump to avert burning of boiler tubes, bursting of boiler shell in tube boilers or deformation of the steel drum in water tube boilers.
The CR 15-9 model was found suitable for the factory's boilers because of the pump's suitability for a range of water duties including boosting applications. This is the second pumping solution by Davis & Shirtliff to Ogembo Tea Factory after the previous installation of an Ajax DE40-20 booster pump at the factory's water treatment plant.
Shirtliff has supplied more than 20 similar water treatment plants to various KTDA tea factories to treat river water to standards appropriate for tea factory operations. "These treatment plants take water from local rivers, remove all silt and colouration from the water and at the same time disinfect the water to remove all bacteria before it is supplied to the factory," said Holi. "All of these plants use various kinds of pumps including water transfer pumps, filter pumps and chemical dosing pumps." The water is also used in cleaning and cooling processes which are necessary in prevention of the growth of microbes that could affect the quality of the tea.
Ogembo factory unit manager Joseph Arithi says to guarantee smooth operations, a definite source of water and high performing pumping solution to supply the water was what the company needed to achieve good results. The company installed the electric pump at the water treatment plant at Gucha River, 3 km from the factory, as part of its efforts to enhance water supply to the processing plant for cooling, cleaning and washing the premises.
Arithi says the pump has helped ensure not only adequate and reliable water supply but also helped the company achieve high level cleanliness which has ensured high quality processed black tea. He says the installation of the pumps coincided with an increase in green leaf deliveries and volume of processed at the processing plant. The company received 23 million kg of green leaf in 2012 which resulted in 5.2 million kg of processed tea. This was higher than the 21 million kg of delivered green leaf and 4.8 million kg of processed tea in 2011.
Electric water company
In addition to the new electric water pump, the company has also acquired modern processing machinery which has enhanced processing capacity and reduction of production costs according to company chairman Timothy Nyarang'o. Among the new machinery acquired, which relies heavily on reliable water supply is the Cut Tear Curl (CTC) machine. The CTC machines reduces tea particles that are ideal for packing in tea bags. Withered leaf is passed through the machines and rollers that rotate at different speeds to achieve the right quality of tea ready for packing.
However, the CTC machines among other equipment require high level of hygiene to avoid any contamination and compromising of the quality of the tea. Cleaning starts from the time the tea is plucked, through manufacturing to packaging of the processed product. Shirtliff says the Ajax DE40-20 model installed at Ogembo tea processing plant's water treatment facility, is one the solutions that is designed for various water supply, irrigation and firefighting duties in agricultural, commercial and industrial applications.
The DE40-20 model features gland packing seal for simple maintenance, back pullout design enabling removal of the rotating element without disturbing the pipe work connections and heavy duty bearings. The pump has a speed of 2900 rpm, a maximum flow of 40 m3/h and a minimum of 20 m3/h. Shirtfliff says with a head maximum of 60 m and minimum of 5 0 m, AjaxE40-20 was best suited for pumping clean cold water to meet demand by the tea processing plant.
"The pumps can be modified for specific duties by adjustment of the impeller diameter which must be done with reference to the particular pump curve," says Shirtliff. "The pumps are also suitable for belt drive by either electric motor or a diesel engine." The company has more than 300 different pump models which are available for borehole, booster, irrigation, drainage, sewage, hot water, chemical dosage, domestic and hand powered applications.
Contamination
At Ogembo Tea Company, Arithi says priority has been given to prevention of microbial contamination which is caused by oxidised leaf, factory floors and air and proper washing of factory floors will ensure that at the stage of tea fermentation the environment is clean.
KTDA also says all its factories have given priority to the washing of drying and sorting rooms to prevent the growth of moulds. The agency says microbes do affect the quality of tea manufactured and end up impacting on earnings both the tea company and tea growers. Some of the cleaning in the factory requires use of high pressure water jets which not only require plenty of water but also water pumped at the right pressure. Ogembo tea factory, just many other KTDA-run factories, uses high pressure water jet to clean tea machinery and its floors.
A tea factory's rolling room floor is known to be the source of infection in tea factories and prevention calls for immediate cleaning once the day's processing is completed hence the need for adequate water supply. Leaf juice that sticks to roller caps, roller doors, ball breakers and CTC machines must also be thoroughly cleaned to avoid creating a conducive environment for growth of bacteria.
KTDA CEO Lerionka Tiampati says its factories hope to raise the performance levels in coming years through efficiency which can be achieved by installing and properly maintaining modern equipment. He said improvements in processing operations across all its factories pushed the tea producers' earnings by 12.4% last year to Sh 61.4 billion. "The impressive earnings in 2012 was a result of better tea prices, favourable exchange rates, effective cost management by the tea factories, efficient management and higher tea production."
The CEO noted that crop production received by all KTDA factories increased by 8% to 907 million kg from 837 million kg recorded previous year. A good water pumping solution has a direct impact on the quality of tea processed and performance of tea processing plants, at least in Kenya.