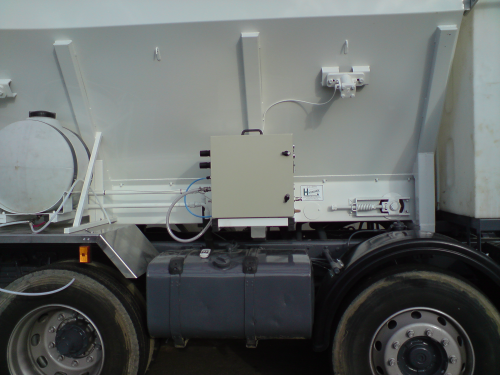 The company had been called in to fill and make safe a large hole that had appeared in an established and otherwise stable landfill site. The dilemma was that in landfill and similar concrete pours, where the ground is susceptible to subsidence, the density and overall weight of the concrete used can often compound the problem rather than provide the required infill solution. In these types of applications, where there is the potential for further sinking and settlement, there is a need to keep the weight of the material used to a minimum, whilst ensuring its overall integrity is maintained. The initial idea was to use a combination of both Celcon blocks (the lightweight industry standard building block) and concrete, but the numerous air locks and cavities this approach created could, in its self, harbour potential stability problems. Triark's engineers came up with a simple, yet novel solution
AODD at the heart
By using an AODD pump at its heart, they designed a pneumatic foam generator that was able to produce the same sort of foam that Celcon use in the factory production of their building blocks, but in a more liquid form to aid remote onsite pouring. The equipment was small enough to be mounted on a standard concrete mixer, allowing the plant to arrive on site half full, with just 3 m³ of concrete on board rather than the usual 6 m³. 
The concrete would then be topped up with the foam, allowing the resulting lightweight foam concrete to be poured directly into the designated cavity. Through successful trials and testing, Triark Pumps were able to produce a foam mixture which allowed the concrete mixers to carry just 2.5m³ of concrete on to the site. The customer was extremely pleased with the results, claiming exponential savings on more traditional concrete pours and as a direct result placed an order for a further five units.
The production process
Foamed concrete is a lightweight, free flowing material, which is ideal for a wide range of applications.  It is made by adding special foam to cement mortar slurry. This foam is made from a foaming agent, a highly concentrated, highly efficient, low dosage liquid. Appropriate volumes of water and the foaming agent are drawn separately into the foam generator, via the integral AODD Pump, which mixes them in the correct ratio (see diagram below) to produce the pre-foaming solution.
This pre-foaming solution along with compressed air is then forced at high pressure through a lance, to produce uniform, stable foam which has a volume of 20-25 times that of the pre-foamed solution. The foam is then mixed into the mortar slurry in a suitable cement mixer to make the lightweight foamed concrete. An automatic timer is built into the foam generator enabling easy production of identical consecutive batches.  Totally safe, and with no electrical parts the foam generator is entirely air operated, and so is ideally suited to all manner of  environments and remote locations.
Foamed concrete
Foamed Concrete can be placed easily, by pumping if necessary, and does not require compaction or levelling. It has excellent water and frost resistance and provides a high level of both sound and thermal insulation. The concrete formed is extremely stable and lightweight, and will not sink into soft ground or impose undue loading on roofs and other structures. It is uniquely versatile and with its huge range of dry densities and strengths, it can be tailored for optimum performance and minimum cost by choice of a suitable mix configuration.