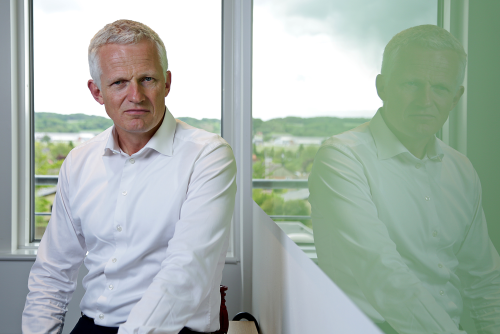 When Grundfos appointed Mads Nipper as its new group president and CEO in August last year, more than a few eyebrows were raised in the pump industry, not least because he came from renown toy manufacturer Lego and not from industrial manufacturing – let alone a pump company.
Mads Nippper - Grundfos group president and CEO.
Before joining Grundfos Nipper worked for LEGO Company from 1991 to 2014; finally as chief marketing officer on the management board. Nipper, along with his management team, was credited with turning Lego around from a company lacking direction and in serious financial dire straits, to the world's leading toy company.
The background to Nipper's appointment was Grundfos' disappointing financial results in 2013. Carsten Bjerg, who had been CEO for seven years was in dismissed because of dissatisfaction with the 'fundamentals and development' in the group.
Questions that immediately come to mind are, what were Grundfos' reasons for believing that Nipper was the man to bring about a change in fortune and how was he going to do it. Nipper answers this by drawing similarities between his experience at Lego and what he found when he arrived at Grundfos in August last year.
"Lego had three very distinct faults: one which was not knowing how it was doing, so the top line, was not improving; it had no real innovation, not a disaster on any parameters, but performance was slowly deteriorating.; Every year we talked ourselves into saying, 'Oh, it's not that bad'.
"However, our competitors didn't sleep and our deceleration became a life-threatening crisis because the company reacted too little and too slowly. When it did finally react, it reacted in the wrong way by abandoning its core business and believing all the opportunities are beyond its competencies; this attitude almost killed the company. This meant that it had to be saved in the absolute eleventh hour in 2004."
Later, having identified its core strengths and built on them, Lego put up what is by any standards a fantastic performance against its global competitors. It brought in twice the returns, twice the customer satisfaction, twice the performance on any measure and is now the world's biggest toy company and as profitable as the rest of the entire industry put together.
Highly efficient production is everyday life at Grundfos. Tireless production workers make sure that everything is checked and accounted for.
Making a real difference
Like Lego, Grundfos had been reacting to a slowly-deteriorating performance. In spite of four consecutive years of gaining global market share, every year profits are declining and if that trend continues Grundfos will be a loss-making company, in just a few years. This would inhibit the company from investing in R&D, making potential acquisitions, and end up in a very negative spiral.
Nipper was brought in to halt the decline: "I knew a few people who worked for the company, and I talked to several members of the board and discretely to a few people who already worked here. If there is something that appeals hugely to me, having worked for a family and foundation company for 23 years is that I'm not at my best when I fight for making rich people even richer. I'm at my best when I feel I'm part of a team that makes a genuine difference in the world. In Grundfos' case this is to make a real difference in energy efficiency and the accessibility of clean water to people around the world.
"From the very beginning I felt incredibly welcome, even though there were hundreds of reasons to be sceptical as to why somebody who's grown up on the toy business would ever create any value in a company that lives and dies with selling pumps. But I think it also helped coming from Lego, which had proven that by focusing on its core business and being relentlessly ambitious it could achieve great things."
Grundfos had found itself being consistently too ambitious; failing to meet targets and delivering poor results. "Previously Grundfos had been growing around 10% a year, and then all manufacturing capacity, R & D costs, staff costs, are all geared at 10%. In the last full accounting year Grundfos was down to 4% of profits of sales, of 3.7% to be exact, and that's not far from a bad place to be in. If you look at the financial performance it's been pretty depressing," admitted Nipper.
He went on to explain: "The world had changed. A few years ago, if Grundfos made a great product it could have complete ownership for five, maybe even ten years. Now, if we come up with a great product, unless it's of very ring-fenced by patents, then probably in 18 to 24 months at the latest, somebody's going to have something which is not quite as, but almost, as good. This means that another product could be delivering 80 or 90% of the performance at 60% of the price, and that's a very tempting value proposition for many customers."
Like any manufacturer, Grundfos faces the challenge of supplying the customers with the products they want and it has always been very proud of the fact that it reinvests 10% of its revenue into R&D. And its R&D department has been very successful in bring out new products and new variations – but perhaps too many.
Nipper admitted that out of the company's 50 categories of products, half of those are not making any money. "We have more than a million different product numbers and more than 60% of those product numbers have not been bought by any customer for more than seven years, so therefore it's pretty safe to take out some of that."
Four body parts
The Grundfos workforce is proud of what it does and believes that it produces world class products, so naturally it does not understand why the company is making less and less money "We need to do some cleaning-up and we need to simplify things. We need to lower our cost base and then deliver a new strategy," said Nipper.
What that strategy is, depends not only on how much Grundfos understands its customers, but on how much it understands itself. Nipper makes an allegory between a company's make up and the human body. "There are four body parts. The first is one foot; this is the Foundation, our six values and purpose, we have not changed a comma of that. The Grundfos purpose of making a difference in water and energy efficiency, by being a world leader in pump solutions, is intact.
"The second is the leg, which in strategy terms is the need for clearer priorities. Grundfos has wanted to do everything to the highest standards, but with 1.2 million products and offices in 55 countries around the world, trying to do everything with the same priority is difficult.
"The third part, one arm, is how we measure success. This was one of the first questions I asked the board." Together with Grundfos, Nipper defined what they now call the five most important performance indicators for Grundfos: how much do we grow? Customer loyalty; employee motivation and satisfaction; finance; return on capital employed.
The fourth part, the other arm, is the so-called Must Win Battles: Funding the journey by a cost conscious approach with transparency and decisiveness, an end-to-end supply chain adding value to the business and the customers, product leadership by maintaining and developing a leading and differentiated product portfolio, service as a commercial differentiator and finally creating and enhancing a customer-centric and collaborative culture.
When the group management team finalised this strategy with the four body parts, the management team spent two days with the 700 top Grundfos leaders around the world talking about the content of the strategy and discussing what being customer focused means for a leader's behaviour.
Nipper continues, "If they didn't leave us saying, 'Ah – I understand how tomorrow my behaviour should change as a leader', then this strategy is not worth the paper it's written on. At work, strategy is not an additional entry on the task list, it's something that affects behaviour and how you execute your job, and that is where understanding the customer better comes in. The behaviour part is the single most important part, because if you don't change your behaviour, nothing happens."
CR pumps can be adapted to many different applications. Ranging from simple domestic installations to heavy-duty industrial settings.
Getting close to customers
"Once we decided on a course of action, it was surprisingly easy to get momentum behind what needed to be done. We had to do two things; namely nurture what creates value both for our customers and for us and spend time with our customers. We cannot increase prices, because customers won't like that," said Nipper.
One thing customers do like is orders arriving on time. Grundfos is one of the world's major pump manufacturers with a considerable global presence and a huge manufacturing capability, yet Nipper feels that the company is not leading in terms of servicing its customers well with the shortest lead times, the best ability to deliver, and the highest reliability. He is convinced that the company can do that much better than it currently does. He believes that the way to do that is by having stronger collaboration across Grundfos by tying together demand, supply, and product design.
"If we ask our customers what drives their loyalty and makes them happy, the area that consistently grows in importance is ability to deliver on time and with short lead times. It's beyond the product and the price – it's part of the value proposition. If they need a pump at a certain date, and need it fast, we have the global scale and the capability to do that, but we need to leverage our entire value chain to do it without increasing our costs.
"For example, our people in manufacturing have to understand why it is important we keep promised delivery times. If you have a crew ready to place the pump at the construction site, it sure as hell matters whether the pump is on time and we keep our promises. We need to find a way to ensure that not only our sales teams, but the entire organisation becomes more familiar with how their actions can help our ability to serve customers better," Said Nipper.
Grundfos has always been very proud of its customer-centricity approach and has claimed that this always been at the very core of how it operates, but over the past years Nipper feels that has been unlearnt and wants to address that, by having his staff getting much more intimate with what Grundfos' customers need from the company.
Nipper explains, "We want to get closer to our customers and find out more about their journey. When they make the decision to buy a pump, do they start by looking in the phone book, or is it that they know Grundfos and call us to give a quote? Do they go online on a product configurator? Do they call references or consultants, or have people who help them specify? What do they do? How does it start? How do they make their decisions? Because if we have no idea how the majority of our customers start their journey of getting a new product, how am I ever going to know whether we should employ 500 more salespeople, or build the world's best product configurator?
Getting closer to the customer is also necessary at the production process and Nipper believes that it has to do with curiosity: "What we do when we make products and solutions for our customers has to do with being curious, and finding out. We ask what them what they need, and can we do it in another way?"
Nipper admits that Grundfos had a 'know-it-all' attitude, but he says the company is now asking more questions; admitting that they knew a lot, but maybe they could do something differently. As he says, "For Grundfos this was new, because our staff and customers now have a feeling that someone's listening to what they're thinking and saying. They have great ideas, and suddenly someone is asking them to share it in a bigger room. They shared it in the small rooms, now they share it in a bigger room – that's new."
Personal management style
Nipper believes that getting that vision buy-in from both customers and workforce is about having integrity in what a company says and does and that starts at the very top. He feels that it can only happen by leadership cascading integrity through the company. He does not believe there's a dichotomy between being informal and professional. He says, "I think it's quite easy to bridge those and I think people are at their best if they are relaxed but professional and dedicated."
Nipper is careful to point out that it's the atmosphere and the culture of the company to ask questions, but it is not a collective brainstorm, "We have people to make the decisions. What's demanded is the ability to share, ask the right questions and on the basis of that input, then make decisions and decide on a clear direction. If you have curious management that understands or asks for people's opinion, what's going on in this corner of the company or how does the future look externally from the company, then you also get the same curiosity and the same commitment among your colleagues; this has been missing for some years in Grundfos."
Nipper takes this drive for change from the top to the heart. He says that he could never pretend to act the part of the caring interested boss, because that's something he could never do and he doesn't have to – because he does care and he is interested. For him this is as important a part of strategy as investment decisions in Russia or China.
"I have a very firm belief in what I call authentic leadership; doing what I feel is right to do and not what I pretend to do, because eventually people will find out you're bullshitting."
"Every month I have what I call an employee lunch where we invite 15 completely random employees for lunch for an hour-and-a-half. They have the opportunity to ask questions and it is amazing to hear those questions. It'll be everything from 'What is the strategic rationale between picking Russia ahead of Germany as a growth market?' To, 'Why is it we continue to not invest in this machine down at the UP stamping line, because we spend more money on repairing it, than we would do if combined with another machine?' I'll take a walk down there to understand why this is the case."
Optimistic future
Grundfos will stay relentlessly ambitious in having the best products and solutions in the market, but it also realises that having the best product won't do it alone. It is realising after having a huge lead for a decade, those times are gone and it needs more service supply chain custom advice, interactions and personal relations to its customers, to supplement that.
The message Nipper has for Grundfos is a simple message and it is a clear one: before it can focus on growth, it has to focus on profitability. "For the time being we'll grow with the market, than out-grow the market. Because we have set ambitions and geared cost levels to a different level, we need more. This is why we need a couple of years to over-proportionally invest in getting a healthier base, but at the same time we will start investing money in the foundation to deliver a higher growth later."
This year, Nipper is optimistic that Grundfos will grow with the market, rather than outgrow it, but the company will substantially increase its profitability. While next year is likely to be more along the same lines, but come 2017,2018 and 2019, then Nipper is convinced Grundfos will be at a totally different profit level, and will accelerate focus on growth again.
In conclusion, Nipper returns again to the customer, "Our aim is to understand and deliver additional value beyond the product that will add value to the customers. It's the heart, it's the layers. You can't take the product from the service. It's all part of the same product. Competitiveness and customer value is like an onion. It has many layers, and the more layers you add, the more difficult it is to get to the core. The product is at the core, but then you build additional layers, and the more you have, the more difficult it'll be for any competitor to get to your level. It's eventually about people".