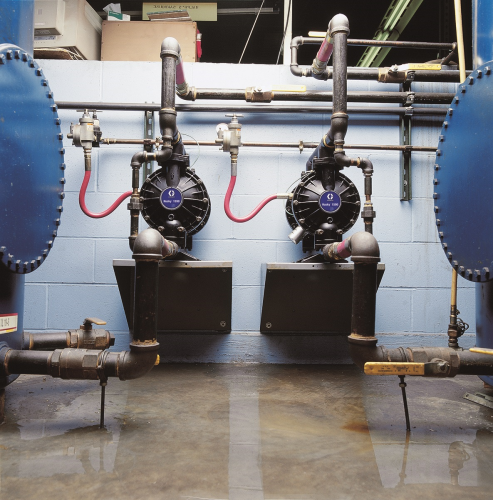 In a variety of applications across a number of industries, Air-Operated Double Diaphragm (AODD) pumps provide reliable, high performance pumping. They have come to be known as the 'work horse' of industry, when it comes to handling and transferring fluids at relatively low flows and pressures. Above ground or below ground, on land or on sea, in normal or extreme conditions, the versatility of AODD pumps ensures that processes keep moving. To help you get the best from your AODD pump, Graco is offering a webinar to show you how.
Key to safe and reliable operation of an AODD pump is correct configuration. This involves taking fluid characteristics into consideration, such as pH levels, abrasiveness, temperature and fluid density. Also important is to check chemical compatibility: manufacturers often provide guides on their websites to ensure pump materials are suitable for the fluid being transferred. These same websites often feature online pump selector tools to assist in configuring a pump in a matter of minutes and with a few clicks of the mouse.
However, some of these configuration tools can appear overwhelming at first, especially considering the vast number of alternative materials that can be specified for pump components. Making the right choice can significantly reduce the overall cost of the pump – while making the wrong choice can give you a pump that is too expensive for your requirements.
This article identifies and recommends popular ball, seat and diaphragm materials (internal pump components) and pump fluid sections (pump bodies) to perform in applications with varying fluid characteristics. These are general guidelines and points to consider when specifying the correct configuration. In parallel with these recommendations, it's always advisable to check the manufacturer's specifications and chemical compatibility guides.
What temperature?
The first guideline is to remember to identify the temperature limits of all components in the pump. The internal pump components may be rated to an extremely low or high temperature, but that does not imply that the pump body material is rated to the same level, and vice versa. When configuring an AODD pump, it's important to identify temperature ratings of all components, by referring closely to the manufacturer's product specifications.
Increasing the working temperature has a significant consequence on material selection. For example, plastic pump bodies are not recommended because cold flow and creep can lead to leaking. As temperatures rise above 80°C, the choice of compatible internal components further decreases. At these elevated temperatures, materials such as ethylene propylene diene monomer rubber (EPDM), polytetrafluoroethylene (PTFE), polyvinylidene fluoride (PVDF) and fluoroelastomer (FKM or Viton) are preferred. FKM and EPDM have the highest heat resistance, rated to 160°C and 135°C respectively. Next in line are PVDF and PTFE, rated to 107°C and 100°C respectively.
At the other end of the thermometer, glycol transfer pumps are required to withstand cold environments down to -20°C, thus requiring aluminum, stainless steel, EPDM, FKM and Santoprene.
Key takeaways:
For high temperature applications: Stainless steel or aluminium pumps with FKM, EPDM, PTFE or PVDF wetted materials

For low temperature applications: Stainless steel or aluminium pumps with EPDM, FKM or Santoprene wetted materials.
Corroisve environment
If you want your AODD pump to handle corrosive chemicals or fluids with fluctuating concentrations and/or pH levels, then it's vital to make the proper selection of pump bodies and internal pump components to avoid pump corrosion, ensure compatibility, and reduce maintenance requirements. For such applications, plastic pump bodies such as polypropylene, PVDF, Kynar® and PTFE are often chosen on account of their chemical inertness.
The highest chemical compatibility is offered by PTFE, which can generally be safely used with the most basic chemicals to the most acidic acids. It could be, however, that PTFE is an over-specification. Other materials such as polypropylene or PVDF may suffice. It therefore makes sense to refer to the manufacturer's chemical compatibility guides for guidance as to which are the optimal pump materials to use for the chemical or fluid you are working with.
Key takeaway:
Check manufacturer's chemical compatibility guide.
What's the fluid density?
Surprisingly, when configuring a diaphragm pump the most frequently overlooked specification is fluid density. It's an important factor to consider because diaphragm pumps utilize ball checks that rise and fall as pressure changes occur within the fluid chambers of the pump. Ball checks come in a whole range of metal and elastomer configurations. Each of these materials has a different weight, or specific gravity. Understanding how this weight relates to the fluid has an influence on the material specified.
If a low-viscosity fluid is being transferred, the weight of the ball is not of critical importance because the fluid is not restrictive during the ball seating process. A 30% slurry, on the other hand, has a higher viscosity and therefore requires a heavier ball to move through the slurry so the ball seats properly. If the ball is too light, it will hang up in the slurry and will not seat, leading to poor pump performance that includes priming issues and cavitation. A rule of thumb is the denser the fluid, the heavier the ball check.
Key takeaway:
Neoprene, stainless steel and PTFE ball checks have the highest specific gravity, or weight, allowing ball checks to seat reliably through high-viscosity fluids.
Want to minimize wear?
For abrasive fluids, metal pump bodies are generally recommended. The most commonly used materials are aluminium, stainless steel, and Hastelloy. Santoprene and Geolast are good for internal pump components as they provide longevity and resistance to destructive abrasives. Applications with petroleum-based fluids, such as waste oil, are best paired with Geolast ball, seat and diaphragm materials. Santoprene, one of the most versatile elastomers, offers good chemical compatibility and excellent abrasive resistance. PTFE offers a high level of chemical inertness and compatibility in high-temperature applications, but it is often incorrectly specified in abrasive applications, such as chemical slurries. Again, it's important to check chemical compatibility of all these materials.
Key takeaway:
Stainless steel pumps with Santoprene or Geolast wetted materials
Looking to reduce costs?When configuring a cost-effective pump, aluminium, polypropylene, Geolast, TPE and EPDM need to be high on your shopping list. As variables such as temperature or abrasives become more challenging, using an ultra-high molecular weight polyethylene (UHMWPE), neoprene or nitrile may be required, but this is going to increase the pump's cost.
Other materials that will add to the cost of the configured pump are specialty materials intended to handle the most extreme fluids. These materials include PTFE, PVDF, FKM, Hastelloy and stainless steel.
A useful tip is to be open to using a different material when your pump has to be repaired. It might not be necessary to re-order exactly the same material. Consulting a chemical compatibility guide might help identify other materials that are perfectly suited for the same fluid but at a lower cost.
Key takeaways:

The most cost-effective materials: Polypropylene, Geolast, EPDM, TPE and aluminium.

Midrange materials: UHMWPE, neoprene and nitrile.

Higher price range: PTFE, PVDF, FKM and stainless steel.