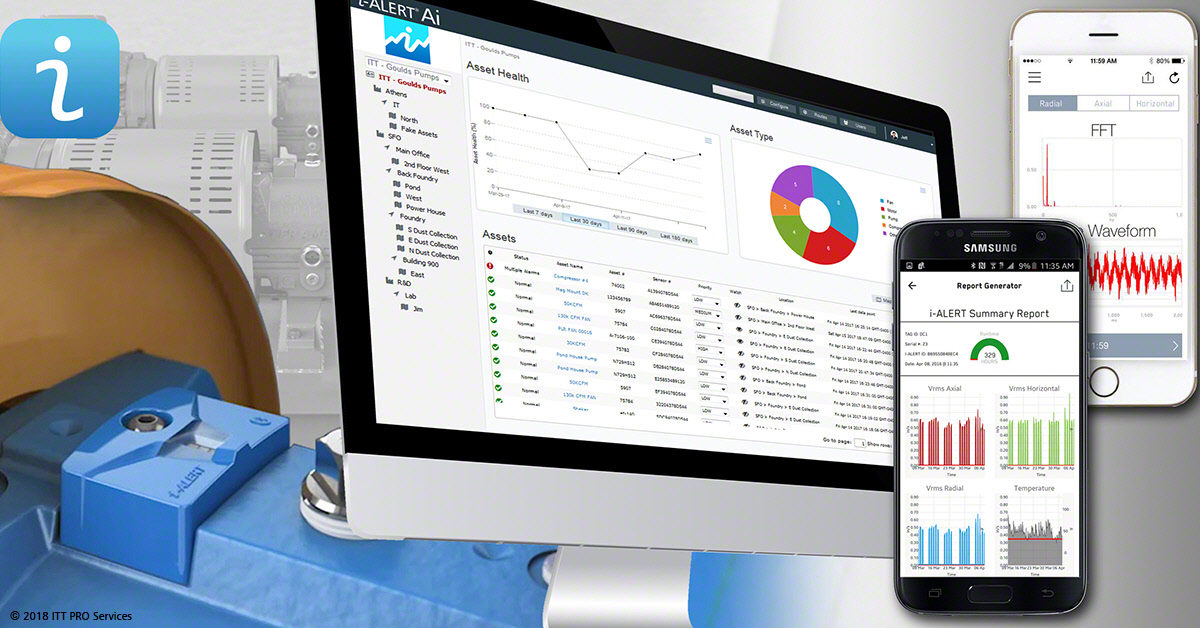 ITT PRO Services' i-ALERT monitoring solution enables users to continuously monitor all types of machines, spending less time collecting data from their rotating equipment and more time solving problems. World Pumps spoke to Dan Kernan, executive director of Product Management and Technology from ITT to find out more.
Q:  How is the i-ALERT solution different from other condition monitoring technologies on the market?
A:   There may be similar technologies out there, but the i-ALERT monitoring solution is currently the only solution that makes comprehensive machine monitoring cost-effective. The i-ALERT2 sensor gives clients 3-axis vibration, temperature, kurtosis and run-time tracking. Advanced vibration analysis helps diagnose machine faults. Machine status is checked every five minutes and data is logged automatically every hour or during an alarm event, with all the information available right on the user's smart device.
Q:   What is the biggest benefit to plant managers?
A:    Up to a 50% reduction in plant walk-around time, which can be a lifesaver if you're trying to fill a gap. Thanks to its Bluetooth Smart wireless connection, i-ALERT2 solution enables operators to scan multiple machines at once, often from the same location. In addition, data collection is automated and instantaneous so there's no reporting or formatting required.  All operators need to do is request that the data is emailed. KPIs showing the overall plant asset health also greatly benefit the plant managers in managing the health of the machines. The i-ALERT Asset Intelligence (Ai) platform enables plant managers to monitor all the KPIs from web-based dashboard.
Q:  What do the new sensor upgrades in the Bluetooth i-ALERT Monitoring Solution portfolio do?
A:  The new upgrades to the i-ALERT2 sensor are geared to give users more flexibility. In addition to improving battery performance, the new upgrades enable programmable monitoring intervals to detect faster transient fault conditions. They also expand monitoring coverage to slower speed machines. So, whether users have a cooling tower application, air-cooled heat exchangers or large slow-speed pumps, the i-ALERT has them covered.
If you want to learn more about the i-ALERT, follow the link to the video explanation.