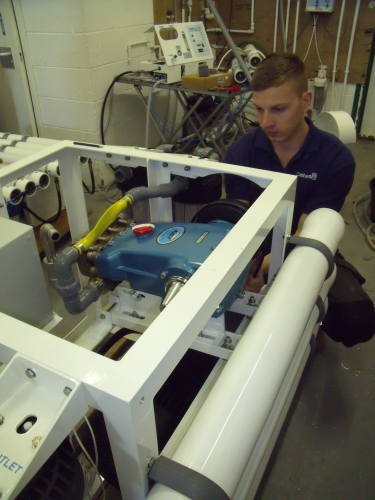 The digital edition of the magazine is distributed free of charge to readers who meet our qualifying criteria. You can apply to receive your free copy by completing this short registration form.
Reverse Osmosis desalination is often used to provide drinking water at sea. The high pressure pumps need to be compact, have a small footprint, offer exceptionally high levels of resistance to corrosion resistance and have strength and long life even in the harshest of conditions. One desalinator manufacturer found that triplex positive displacement high pressure plunger pump type offered by Cat Pumps more than satisfied these requirements.
Reverse Osmosis (RO) desalination is widely used on land for the production of potable water from seawater or brackish water. Its use for marine applications, where the required volumes of drinking water are much lower, is probably not as well known. The RO process used is very much the same but on a far smaller scale, with high pressure pumps employed to force filtered seawater though permeable membranes. RO desalinators for commercial vessels, offshore facilities in the oil and gas industry and larger luxury yachts need to be compact, requiring pumps that occupy a small footprint, yet giving the high pressures needed by the permeable membranes.
Growing international sales in the marine desalination market has been good news for Cat Pumps, particularly in the UK where manufacturer Cathelco Seafresh has seen a substantial increase in the global demand for its desalinators. According to Cathelco Seafresh their range of end users has included merchant and naval vessels, military and marine security vessels, floating offshore platforms and supply ships for destinations as far apart as Ireland and Thailand.
Space saving design
Cathelco Seafresh offers two series of desalinators, the 'H20' and the 'Ton', giving a capacity ranging from 0.870 - 50 tonnes output yield of water per day. Most recently it has introduced a medium-duty range with 8 – 16 tonne capacities which has been built to a new space saving design. With a footprint that is 50% smaller than the original design, a significant factor in the size reduction is the high pressure pump which is smaller and more closely matched to the requirements of the system within the output range.
The models of high pressure triplex plunger pumps that Cat Pumps offers for RO systems is extensive, with feed water flow rates ranging from 5 litres/min up to 55 m³/hour. Available in both belt drive and direct drive options, they are compact and easily accommodated in the modular frame or 'cube' design favoured by Cathelco Seafresh. In fact, the frames have been designed around the dimensions of the Cat Pumps products and associated components.
In any application where a high pressure liquid stream is required the triplex PD pump is arguably the most appropriate choice. Unlike other pump types these pumps actually increase in efficiency at higher pressures and further, they can satisfy applications where the pumped liquid is of low to medium viscosity and has little inherent lubricity. In RO desalination, the permeate membranes require a continuous and steady flow of seawater to function effectively and few pumps can offer this for small size, modular systems such as those made by Cathelco Seafresh.
Predictable volumetric flow
Because the triplex PD pump is almost 100% positive it always delivers a predictable volumetric flow regardless of pressure. This is because on the inlet stroke the pump takes in a fixed volume of liquid and physically moves it through and out of the pump with virtually no losses or inefficiencies. Furthermore, the pump performance is independent of specific gravity so the input power and output flow are unaffected by the liquid density. For its most recent orders Cathelco Seafresh has been purchasing Cat Pumps models 2537 and 1057. However, when the 50 tonne unit is introduced later in 2014, a 3527 series pump will be used.
When running, marine RO desalinators draw in seawater through an inlet screen into a priming pump to provide a constant positive pressure feed. Before reaching the triplex PD pump the water passes through a media filter via a flowmeter and then a 5 micron filter. This filter is necessary to prevent contamination of the RO membranes rather than to protect the pump, as Cat Pumps internal components are far more tolerant of particulate contamination than other pump types found on some RO systems.
The filtered water passes through a pressure regulator into a series of RO membranes, the number depending on the volume of permeate required. From the membrane the permeate is collected through a salinity sensor and when deemed fit for use it is transferred into a holding tank. All concentrated (retentate) water is discharged from the system back into the sea. The length of time that a unit operates is dependent on the volume of potable water needed, with typically a 12 tonne system running for six hours per day.
Suitability and performance
The relationship with Cat Pumps goes back many years, well before Seafresh was acquired by Cathelco in 2010. According to Cathelco Seafresh, the relationship is based on the suitability and performance of the Cat Pumps units to give the exacting levels of performance required over many years. "The main reason why we use Cat Pumps, as opposed to those recommended by our membrane supplier, is because Cat Pumps' service is second to none and their pumps are just so very robust," reports Jamie Allison, Operations Manager at Cathelco Seafresh. "The valves and seal housings are very hard working, whilst the heads are very robust. All the servicing that the pumps ever require is routine oil and seal changes." Cathelco Seafresh prefer to specify NAB (Nickel Aluminium Bronze) for the heads for, although stainless steel has excellent corrosion resistance, they find that NAB is more robust if the heads come into contact with stagnant seawater for any length of time.
"We have confidence that Cat Pumps products are ready for installation and working when we receive them as bareshaft units," continues Jamie Allison. "We have been using them for more than 20 years. What is of great importance to us is that Cat Pumps is an international manufacturer with representation around the world, so our customers wherever they may be located have good access to components and spares."  
The digital edition of the magazine is distributed free of charge to readers who meet our qualifying criteria. You can apply to receive your free copy by completing this short registration form.