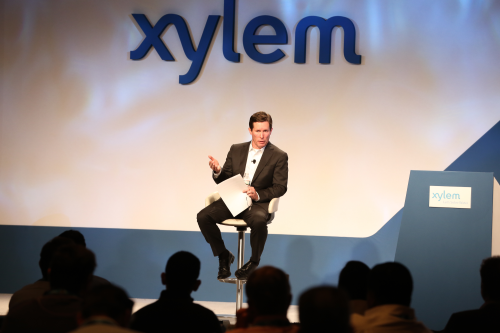 Spun-off from ITT Corporation in October 2011, Xylem Inc. was formed from ITT's separate water businesses and now operates as a global water technology organization. The company was organized into the five areas of transport, treatment, dewatering, analytics and applied water systems – interconnected businesses to cover every stage of the water cycle. Now as a stand-alone company, Xylem is a major operator in water technology, providing equipment, services and comprehensive solutions for water and wastewater applications that address everything from water collection, treatment, distribution and use to its return to the environment.
Xylem now operates in 150 countries and had revenues in 2014 of $3.9 billion. The company operates many well-known global brands, such as Flygt, Godwin, FloJet and Goulds Water Technology, which have served the water market for many decades. Xylem brands serve a number of industries including public utilities, industrial, construction, oil and gas, environmental, food and beverage, government agencies, agricultural, residential and commercial building services.
Patrick Decker was named president and chief executive officer of Xylem in March 2014. He joined Xylem from Harsco Corporation, a global industrial services company where he was president and chief executive officer since 2012. Prior to that, he served in a number of leadership roles at Tyco International's Flow Control business, ultimately serving as president of Tyco Flow Control, a $4 billion company in industrial flow control solutions.
At Tyco he oversaw the separation of the Flow Control business from the parent company. Earlier in his career, he held a number of financial leadership positions at Bristol-Myers Squib Company, including nine years of service in Latin America and Asia. He started his career as an auditor for Price Waterhouse LLP, now PricewaterhouseCoopers, LLP.
Patrick Decker was named president and chief executive officer of Xylem in March 2014.
Active listening  
Patrick Decker explains that he spent much of the first year undertaking what he describes as his 'active listening tour'. "Everyone has opinions about what works and what does not work in a company," he says. "So I find that there is no substitute for leading from the front. You have got to be out there with your sales people and your engineers. You have got to be out walking around your factories or meeting your customers.
"What I was really impressed by is that not only do we have great technologies and products, but the key differentiator is our people. It is the passion that our people have and I really felt that my primary responsibility was to get the passion, motivation and morale going in the company. Obviously, any time there is leadership change, it can be unsettling for an organisation. So from the outset, I really focused on energizing the team."
Patrick adds that identifying some gaps in capability throughout the company was one of his starting points. He continues: "Although we had made some interesting investments in fast-growth developing and emerging markets, I was struck by how unempowered our people in those markets were to design products that made sense for our customers and their markets, or localising the supply chain so we could increase the speed to market.
"Consequently I spent a lot of time reorienting the culture to address the fact that, although we love the core and developed markets we are in, we cannot live off those alone. 70% of the world's new water infrastructure is being built in emerging markets, so I brought in a new leader, Steve Leung, to help accelerate our efforts in those areas."
Patrick Decker spent much of his first year at Xylem undertaking an 'active listening tour' meeting employees and customers.
Increased R&D  
Innovation is another area at Xylem that Patrick felt needed attention. "We had been underinvesting in R&D for the past four or five years," he explains. "Nearly all of our businesses were founded on some type of breakthrough technology. So we have been pioneers from an innovation standpoint. However, just under 3% of our revenue is currently invested in R&D. We are looking to almost double that over the next four to five years. This is not only going to be happening in our design centres in Europe and the US, but also in the developing markets of China, India and the Middle East. We are also broadening how we define innovation. It will be not just on new product design and features. We also intend to focus on solutions technology, integrated systems and smart infrastructure, as well as how we capture data from a monitoring and control standpoint and turn that into predictive intelligence for our customers.
"Another issue that I noticed was how frustrated our sales people were by the distractions they faced internally," adds Patrick. "We need to build a sales culture within the company, one that always puts the customer first. There is a phrase that is gaining traction inside the company: 'sales eats first'. My job as CEO is to make sure that we do not distract these folks from serving our customers."
Mergers and acquisitions  
Mergers and acquisitions are also earmarked for Xylem going forward and Patrick says that he has the full backing of the board to pursue inorganic growth. He adds: "During my listening tour, I gave the board regular updates as to what I was observing. The board includes seasoned current and former CEOs and top executives with deep expertise, and they are just as excited as I am to put our capital to work. Over the next five years, with the $600 million in cash we already have on our balance sheet coupled with the cash we generate each year, we expect to have around $3.5 billion available to us to go execute smart capital deployment. And that comes on top of spending on capex, dividend payments, and investments in R&D and innovation.
"We have done a lot of work over the past six months on data-driven value mapping, which is the foundation of our long-term growth plan. We did a deep dive to assess the attractiveness of different parts of the water sector to inform both our R&D investment activity and our M&A strategy. We have identified a number of spaces that would fit very nicely with where we operate at the moment, which is how we are prioritizing our mergers and acquisitions work. The beauty is we have the arsenal to do this."
 Xylem supplies profiling systems for analyzing water quality in lakes, reservoirs and coastal areas.
Productivity for growth  
Patrick also discussed the importance of driving continuous improvement across all areas of the company. He explained that the combination of continuous improvement and business simplification will be a significant lever for long-term value creation for the company. This combination is the fundamental thread in what he calls the 'productivity for growth' mindset. One recent example is the global procurement function that has been established, which will help generate substantial savings over the next four to five years. In addition, there will be reinvestment in the sales organization, in particular in commercial IT systems.
Xylem is a major supplier of equipment to wastewater treatment facilities around the world.
"We want to make it easier for our customers to understand what we have at our disposal and how we can help meet their needs," says Patrick. "Just this month, we re-launched our online storefront for all of our product technologies, which is easier for our customers to navigate, configure the product and select particular specifications.
"A major initiative is our implementation of Salesforce.com, which is a customer management software program. This tool enables everyone in the business to access information on a particular project. For example, there may be two sales people in discussions with customers in different parts of the project supply chain, such as the EPC (engineering, procurement and construction) contractor and the end user. A sales person can enter the system, input the information and this data is available throughout the company. Since we implemented it in the US, we have seen a significant increase in the targeted revenue we are quoting on, simply because our own people have more visibility as to what is going on elsewhere in the company."
Leadership style  
When asked about his own leadership style and what he has brought to his role at Xylem, Patrick highlights that this business is about its people. "The most important thing I can do as a leader is to create a culture and climate where people feel they can make a difference and enjoy coming to work every day," he explains. "I am trying to drive transparency in the company and build trust. I really do believe that happy employees make happy customers. I want to build an environment and a culture where leaders understand that they are privileged to be in the roles they are in. With that privilege comes a huge responsibility in terms of the decisions you make and the climate that you create for the people that come to work with you every day.
"We need to provide our people with opportunities to grow. For example, we did not have a leadership development programme before, so we took the time to build a custom programme that leverages our unique organizational structure. We now have two different groups enrolled in that programme now, and there will be more to follow."
By encouraging a more empowered and accountable climate in the company, Patrick believes that it will help to accelerate Xylem's progress. "All you have to do is ask people what is working and what is not working. Our people are passionate and vocal, and they are very candid and transparent with me. Recently we also undertook a global engagement process where we collected a lot of data from the employees. It was very constructive and I know and understand a lot more now than before this process. Now we are beginning to act on that feedback."
Privileged role  
Patrick concludes by re-emphasizing that he is privileged to be in his role and wants to instil this notion in his managers. "Around six or seven years ago, I asked one of my mentors how he knew whether he had got it right or wrong when making a change in leadership. He replied that the person either grew or swelled, and it was easy to see when they swelled. It was ego, title, office, and salary increase – everything that comes with the role – and that is when he knew that he had made a mistake. He said that the ones who grow are the ones that are not really sure that they are ready for it. They are going to be asking lots of people for feedback. They are going to be out on the road learning, because they realize that despite the promotion, they still need to continue to learn in order to keep growing."