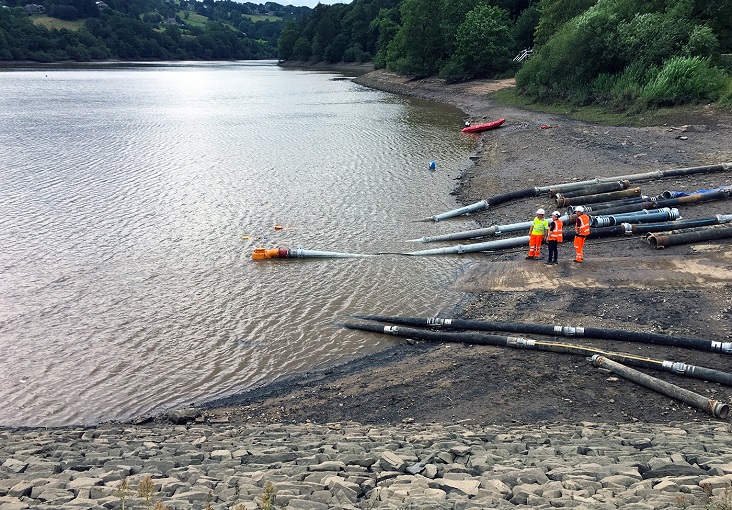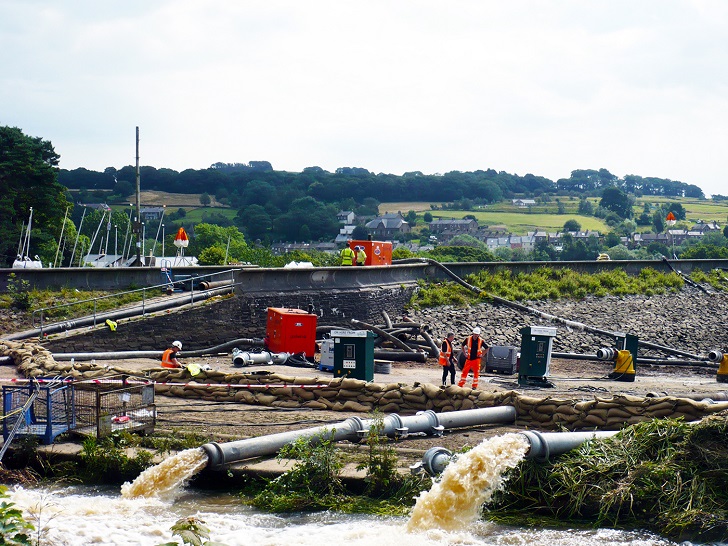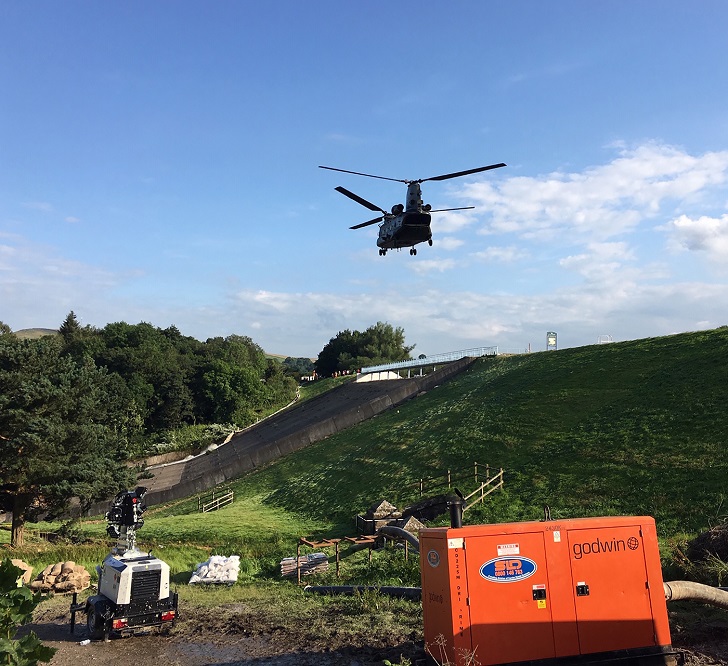 A rapid emergency response by UK specialist hire company SLD Pumps & Power helped save lives, property and the local aquatic ecosystem after the recent partial collapse of Toddbrook Reservoir dam in the Derbyshire town of Whaley Bridge.
As part of the effort to reduce reservoir water levels to avert a potential catastrophic failure of the dam, SLD initially deployed 17 of its high-capacity pumps and related equipment. As the emergency continued, the company quickly deployed five mobile generators with a combined capacity of 1MW, five large submersible pumps, Variable speed drives (VSDs), and 500 m of 12 in high-pressure hose, plus accessories to deal with variable deployment areas.
"I received the emergency call at 15.00 that the dam was in danger of failing and water levels had to be quickly reduced," said Richard Broughton, SLD's national contracts manager who led the project. "By 16.30 we had the equipment on site ready to go.
High pressure project "It was one of the most important and high-pressure projects we have been involved with. The Environment Agency issued an evacuation order for the endangered area; however, not all residents would leave their homes. It required a huge team effort on the part of everyone involved to avert disaster."
SLD worked alongside others in a multi-agency response. Shortly after the initial deployment, in view of the continuing vulnerability of the dam support wall, the water authorities called for further pumping capacity on site. SLD worked with its supply chain to source the additional pumps, connection hoses and power generators, with equipment transported from Newcastle, Manchester and Nottingham.
The emergency plan required water levels in the reservoir to be reduced at a rate of 1.1 m3 per second; with the combined efforts of SLD and other operators, the rate of removal actually achieved was 11 m3 per second. After four days, the pumping operation removed an estimated 1.27 billion litres of water, reducing pressure on the dam and helping to avoid a potential disaster.
Secondary problem "The rapid reduction of water levels caused a secondary problem which was the concentration of fish in the ever-smaller volume of water," said Broughton. "Oxygen levels were quickly depleting and threatening fish stocks, so we provided aeration equipment to maintain oxygen levels in the water to protect the estimated eight tonnes of fish and the rest of the aquatic ecosystem."
SLD provided the necessary equipment, with engineers remaining on site round-the-clock until water levels were reduced to the target level, and the emergency was fully contained.
SLD Pumps & Power is a trading division of Carrier Rental Systems UK Ltd, part of Carrier, a leading global provider of innovative heating, ventilating and air conditioning (HVAC), refrigeration, fire, security and building automation technologies.