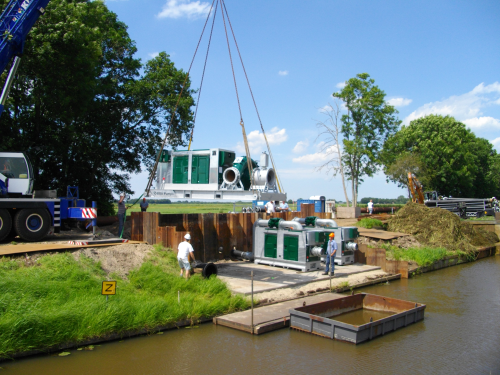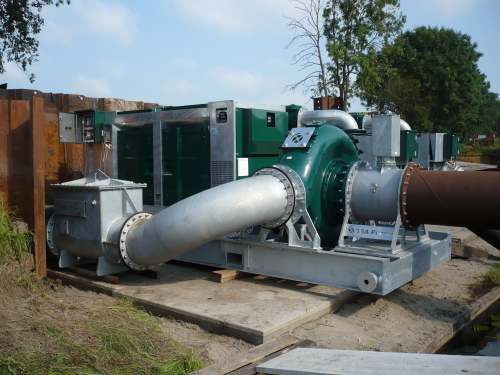 Many countries are becoming more susceptible to the threat of flooding with climate change providing new challenges in areas which have never previously been under threat. The Netherlands is particularly vulnerable with large areas of land reclaimed from the sea and now occupied by a population of 17 million people.
To control this, the Dutch water councils have task of handling day-to-day water level management to ensure flood risks are kept to a minimum. Masters in the art of flood protection, they are constantly monitoring developments to ensure resources are working effectively. To handle the changes in the weather patterns being experienced across Europe, new guidelines for the water handling capabilities of the polders have been released.
Municipal monument
In the Dutch region of Overijssel the local water board governs the water in the agricultural polders around Scheerwolde. One of its refurbishment projects involves a pumping station built in 1933 which has been designated as a so called municipal monument.
The pumps in the Gelderingen pumping station are more than 70 years old and had to be replaced with new ones which not only needed to supply increased capacity but also had to be placed almost half a metre lower... As the polder has settled over the years the pumps were now higher in relation to the ground. This caused them to draw air as well as water, decreasing the drainage capacity of the pumps. Simply lowering the current pumps was not an option, as they were badly in need of replacement having been fully refitted just once in the last 30 years.
Work on the Gelderingen pumping station started last summer. In addition to replacing the pumps, the pumping station will also be renovated to enable it to work effectively for the next 40 years with the cost in excess of two million euros.The project started with the installation of temporary pumping equipment, consisting of three new diesel-driven pump units from BBA Pumps. During the renovation these pumps will take over from the pumping station without any loss of capacity and will guarantee the correct water level.
Residential area
"This is a residential area with several villages nearby so the pumps are very important," said BBA Pumps product manager Henno Schothorst. Two BA300K D324 diesel driven pumps, which together account for a maximum of 46 m3/min,
have both been set up next to a big 20 in pump set, type BA-C500S11 D711 with a capacity of over 60 m3/min. The pumping station has a total capacity of more than100 m3/min (6000 m3/hour)
The pumps have been connected to a modern operating system making it possible to automatically and independently start and stop them, depending on the volumes of water flowing in from the polders nearby. They run quietly so can even continue working during the night without causing any noise disturbance to the surrounding area. "The Water Board only runs the pumps when it is necessary. When there is too much water they start automatically and it is possible to monitor them from behind a desk as well as they operate by GPS," added Mr Schothorst.
Coordination and management of the renovation is in the hands of the Water Board itself. Hans Fokke of the Water Board emphasises that it is extremely important to deploy the proper temporary pumping system."It's not just about the pumping capacity available. It is also important that the communication between the temporary pumping system and our water level management runs without a hitch," he said. "Fortunately there is plenty of know how present, not only within our Water Board but among our suppliers as well. Using these pumps we have a temporary pumping capacity of over 100m3 per minute at our disposal that we can apply without any worries."
Flood control pumps
In addition to acting as a temporary pumping station, BBA's flood control pumps can control water levels during heavy rainfall. They come from a product range that features a 100% mechanical priming system and therefore quickly primes and re-primes, even from dry conditions.
From a handling perspective there are several convenient options available such as a trailer mounted or roll-off-skid possibility, so the pumps can be quickly and easily transported in case of a flooding emergency or heavy rainfall. They can also be used for dewatering areas such as building sites. Flood control is the area where demand is growing fuelled by climate change and this is why BBA is specialising in high efficiency pumps.
In Holland alone Mr Schothorst reckons there are always up to six pumping station projects being worked on simultaneously as water levels continue to rise. As for the Gelderingen pumping station, work is due to be completed by March 2015 with the pumps set to last for 20 years or longer depending on how conditions change in the future.