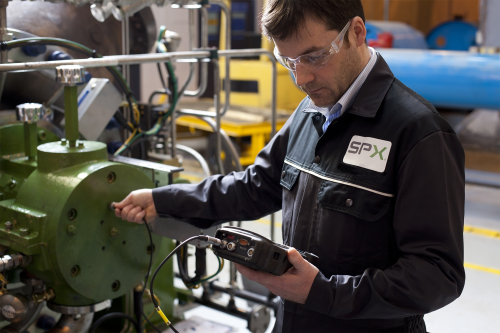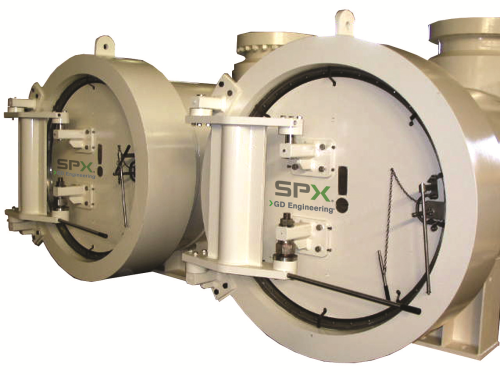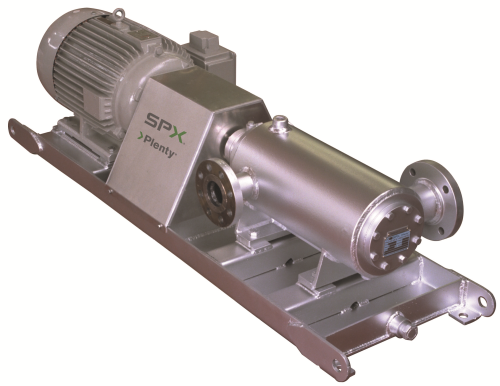 Whether its crude oil, refined products or any form of natural gas, the chances are you will find an SPX product somewhere in the vast highways of pipelines that transport these products.
At the start of the life of a pipe destined for natural gas transmission, an SPX product helps to ensure effective dehydration to avoid pipeline deterioration and maintain gas quality levels required by utility companies. SPX Dehydration Rental, from its Hankisonbrand, plays a major role in this critical process. Also, to avoid moisture in the pipeline, SPX desiccant dryers are used to dry the air used to push a pig further along the pipeline.
 SPX's Delair brand business also serves the oil and gas industry, providing services such as nitrogen drying and generation for purging the pipelines along with efficient compressed natural gas dryers used at the end of a pipeline before storage in high pressure tanks.
When it comes to the transmission of liquid oil or gas through a pipeline, the number of pumps required can be anywhere between one and upwards of 50 depending on the size, length and type of pipeline.This makes them a significant investment, and providing a reliable and efficient steady flow is vital for optimum operation.
SPX acquired ClydeUnion Pumps at the end of 2011, significantly broadening its pumps offerings and expertise. ClydeUnion Pumps has a wide range of single and multi-stage American Petroleum Institute (API) pumps which can be utilised in a variety of pipelines ranging from crude gathering or trunk lines to refined oil and natural gas liquid lines. It works closely with its customers to design and supply the right pumping solution for each application and can supply anything from a single pump to a complete turnkey package, incorporating fixed or variable speed drives, gearbox, fluid coupling, instrumentation, sealing and lubrication solutions, all based on individual customer requirements. It offers precision engineering and customisation to help ensure optimum performance and efficiency from the pumping process.
A pump running inefficiently can have a huge impact on the energy costs associated with it. Over its lifetime the cost of energy may be as much as 90% of the total ownership cost of a pump.
SPX ClydeUnion Pumps also provides expert 'aftermarket' pump refurbishment services to improve reliability, and save time and money when pumps are no longer matched to pipeline conditions.
It has the capability to design and engineer pump parts to provide fit, form and improved function replacements to the latest regulatory requirements and minimising the impact on existing installations.
When it comes to metering pumps, the SPX Bran+Luebbe brand is recognised as a leading market supplier. Its pumps offer metering accuracies of ±0.5% with the ability to pump against high pipeline pressures, and are ideal to ensure the correct ratios are maintained in chemical injection applications. When handling hazardous chemicals, hydraulically-operated, double diaphragm pumps provide a safe, leak-free solution with reliable, accurate operation and, once set to the required flow rate no further adjustments are necessary.
They offer mechanical efficiency for low energy consumption, and these pumps are increasingly replacing packed plunger pumps to meet changing environmental regulations. Bran+Luebbe pumps can also run dry without damage and, overall, offer the potential for a lower total cost of ownership than many alternatives.
As with all SPX brands, Bran+Luebbe have a continuous programme of development and innovation. Its latest Novados double acting, double diaphragm pump provides the capacity of equivalent duplex pumps but with a smaller footprint, lighter weight, lower capital cost and reduced maintenance requirements.
In remote desert pipeline applications, solar powered pumps have been supplied which are powered by the sun's rays during the day and continue to run at night using solar-charged batteries. Bran+Luebbe pumps are also suitable in deepwater or ultra deepwater flow assurance chemical applications, where operating pressures up to 1000 bar. Bran+Luebbe provides pumps for use throughout the oil and gas supply chain, from the well right through to loading, unloading and blending at terminals.
A significant part of the business also covers the supply of complete skid mounted chemical injection packages, comprising, pumps, base frame, multi compartment tanks, pipework, valves, instrumentation and control, all engineered to meet customer and location requirements, fully supplied and tested to ensure high performance.
There are more pumping options, as SPX designs and manufactures Plenty Mirrlees rotary positive displacement pumps with a wide range of screw and vane pumps ideal for the pumping of heavy viscous liquids.
The Plenty brand includes the innovative Triro range of triple screw pumps which provide reliable, quiet, pulse-free operation designed for use with oils, including crude oil. With just three moving parts, their vibration-free design ensures reliable operation and simplified maintenance in a package which is designed to minimise installation cost and complexity. Also available is the Twinro range of positive displacement, rotary twin screw pumps, ideal for bulk transfer of liquids. SPX Plenty can provide anything from a bare shaft pump through to complete packages with pumps, motors, base plates, common skids, filters and differential pressure gauges.
The M&J Valve range gives a broad range of valves for pipeline applications including gate valves, ball valves, control valves and swing check valves which prevent back flow, and provide reliable shut off performance as required to API 6D pipeline valve standards.
The M&J M-303 slab gate valve offers exceptionally easy top entry maintenance and versatility to the pipeline market. The two-piece design allows easy removal of stem and top works, while the valve is in service allowing for simple in line repairs. The M-303 gate valve is a full bore thru-conduit design which allows for easy passage of pigs, wipers, and scrapers. The pipeline pressure is harnessed by pressure-loaded seat rings and a floating gate which move in unison and quickly transmit full, dynamic line pressure to sealing areas on both sides of the gate for exceptional sealing.
Also within the M&J range is the Model EG expanding gate valve which provides dependable shutoff and bi-directional sealing utilising a two-piece gate/segment assembly which expands against the seating areas in the open or closed position. The EG Gate valve is also easy to operate and maintain, providing in-line service capability due to its top entry design which allows removal of top works in the field. The EG's parallel expanding gate and segment provides a tight mechanical seat seal upstream and downstream, and under low and high differential pressure conditions.
Through its understanding of onshore and offshore contract requirements, SPX can further supply everything from strainers to complete filtration packages using the leading technologies and vast experience contained within its Airpel, Dollinger, Plenty and Vokes brands, which are combined into its Filtration and Separation Technology (FaST) group.
When it comes to closures, SPX GD Engineering provides the market-leading, quick-opening Bandlock 2. It sets the standard in reliability, safety and integrity with a design which has a proven safety record and ensures inside pressure cannot open the closure.
Widely used in pipeline areas such as pig traps, the design of the closure is complemented with a leading fluid sealing technology company, James Walker, to ensure an optimum choice of elastomer sealing. GD Engineering provides exceptionally comprehensive verification testing covering vacuum, pressure, pressure fatigue, gas leak, strain gauge and thermal testing along with finite element modelling techniques to demonstrate the closure suitability for the design conditions.
Along with the closure,  SPX also provides a range of pig signallers based on intrusive or non-intrusive technology.
Both the closures and pig signallers are well-established solutions within the oil and gas industry and are supported by expert service capability and a deep understanding of the technology and its application into pipelines.
Through its many brands, SPX has a broad range of complementary technologies to meet pipeline application requirements.
It puts significant investment into research and development, collaborating and sharing knowledge and experience from across the brands to deliver the best solutions to its customers.
A common theme throughout all the SPX brands is expert engineering capability, the ability to supply anything from individual products to complete turnkey solutions and precision customisation services to ensure optimum performance for each application.
It provides truly global support and global manufacturing capability to ensure customers get the best service from front-end engineering through professional supply and project management to comprehensive aftermarket lifetime services. SPX solutions are well- known for their performance, reliability and efficiency, and are based on decades of experience serving the oil and gas industry. It continually strives to bring real customer benefits and to address modern challenges the industry faces with innovative, advanced technology and its own vast engineering expertise.
www.spx.com.
(This article first appeared in World Pumps' December 2013 issue)