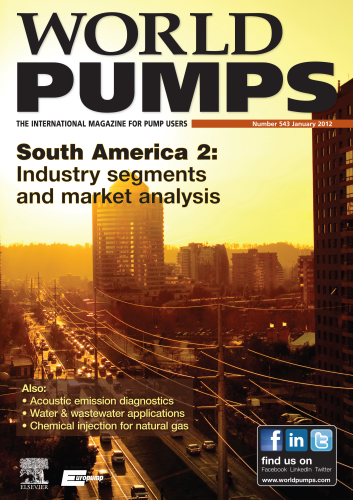 ERI to provide energy efficient water to South America - 6 April 2009Energy Recovery Inc (ERI) have been awarded a contract by Acciona Agua to provide its PX technology to Acciona Agua's latest desalination plant in Venezuela. ERI produce energy recovery devices which lower the energy consumption in desalination plants.
Tritech delivers Merlin pumps to South America -1 July 2010Scottish underwater technology specialist Tritech International Ltd has supplies a large number of its Merlin subsea pumps to South America.
ITT Corp expands in Brazil with Canberra Pumps acquisition - 1 July 2010ITT Corp has bought Canberra Pumps do Brasil, a Brazilian pump manufacturer with an installed base of 20 000 pumps operating in chemical, pulp and paper, and general industrial applications.
Hydroflo Pumps adds assembly facilities in Panama and Nebraska - 9 May 2011Hydroflo Pumps USA Inc has opened its first international assembly facility in David, Panama and another domestic assembly plant in Grand Island, Nebraska.
Grundfos strengthens sales in South America - 7 November 2011Grundfos plans to open a sales company in Bogota, Colombia during the first half of 2012.
South America for growth and diversity - 8 November 2011One of the biggest areas of growth for the pump industry over the last two decades has been in the South American and Latin American markets, particular in the oil and gas, mining and power generation industries.
ITT upgrades Brazilian pump facility - 13 January 2012ITT Corp has completed the upgrade and expansion of its pump manufacturing facility in Salto, Brazil.
Neptuno Pumps launches vertical turbine pump selection software - 30 October 2012Chile's Neptuno Pumps has introduced its web based vertical turbine pump selection software, the Neptuno Pumps VTPSelector.
Hydropower from pumps-as-turbines - 30 November 2012Brazil is known for its use of hydropower, but when a small, remote tourism complex in a Brazilian nature reserve needed additional power supply, a conventional hydropower solution was deemed too expensive. A more affordable option came in the form of a centrifugal pump driving an electric motor acting as a generator.
South & Central American fiesta - 30 November 2012The South and Central American markets have experienced tremendous growth over the last decade creating opportunities for domestic and international companies. A number of trade associations are emerging making the region attractive – not only for the traditional oil & gas and mining companies– but also in water, wastewater, biofuels and other sectors.
Re-powering reclaim water systems - 30 November 2012In the mining industry, production is directly related to the plant's total pumping capacity, and reclaim systems are the main source of water. With the pressure on to improve processes, Petar Ostojic discusses how pump manufacturers can help mining companies re-power their reclaim water systems with custom engineering solutions, improving pump capacity and reducing energy consumption.
Brazil – a strategic oil & gas location - 30 November 2012With the discovery of extensive new oil reserves off the Atlantic coast, Brazil is becoming an increasingly important location for the oil & gas industry and its suppliers. This, combined with the presence of one of its biggest customers, is why one company has located its facilities in Jundiaí, north of São Paulo. Here we see what types of packages are in demand.