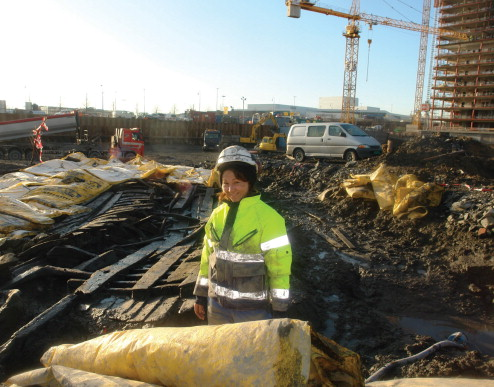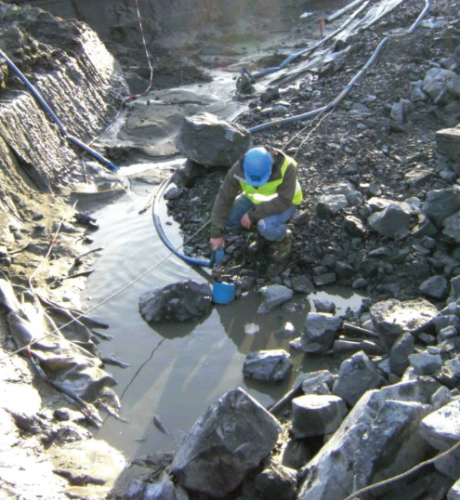 A pdf version of this article is available on the right-hand side under 'Downloads'
As builders began to prepare the ground for the construction of a new highway tunnel in Oslo, the excavators were not prepared for what they were about to find buried under the mud. As work progressed, the largest collection of old shipwrecks ever found in Norway was gradually uncovered.
Specialist archaeologists from the Norwegian Maritime Museum stepped in to examine the site and were surprised to discover the remains of at least 14 wooden boats. Some wrecks measured up to 17 m (56 ft) and are believed to date from the late 16th and early 17th centuries. The boats probably sunk sometime after a massive fire swept the wooden buildings of old Oslo in 1624. After the disaster, the Danish-Norwegian King Kristian IV had ordered Oslo city centre moved before reconstruction started.
The wrecked boats are all fairly well-preserved due to the mixture of mud and fresh water at the site, which is located where the rivers run into the sea at Bjoervika, which part of Oslo's old port. It became a remote area after the city was moved.  
A quick process
According to Lin Hobberstad, an onsite archaeologist who oversaw the safe recovery of the shipwrecks, the removal process to recover the boats had to take place as quickly as possible so that the ships could be examined and ensure that construction work on the tunnel could start again quickly.
"Oslo Vei, a construction specialist based in Oslo, recommended Tsurumi pumps for the onsite drainage," she said. "Good reliable pumps are an essential part of an archaeological project like this and Tsurumi was an obvious choice."
The company installed 70 Tsurumi LB-480A contractor pumps which are single-phase portable pumps with level sensors which start and stop the pump automatically. The LB-480A's electrode level sensor responds to the level of water, switching on the pump as it rises. As the water level drops away, the automatic timer switch stops the pump after just one minute. This helps alleviate the problems associated with allowing a pump to operate non-stop, including greater wear and tear and more frequent maintenance. Energy consumption can also be higher leading to greater energy bills for the contractors – and more CO2 into the atmosphere.
The pumps also feature dry running which helps avoid damaging the pump, and reduces the need for higher staffing costs. The 0.48 kW power-rated LB-480A is also robust and durable during long periods of continuous use, pumping up to 225 l/m at maximum capacity. A combination of a rubber pump chamber and a urethane vortex impeller provides wear resistance, vital for the water in this kind of application which contains sand and silt in suspension.
The pumps are due to remain onsite until the end of construction in 2012.