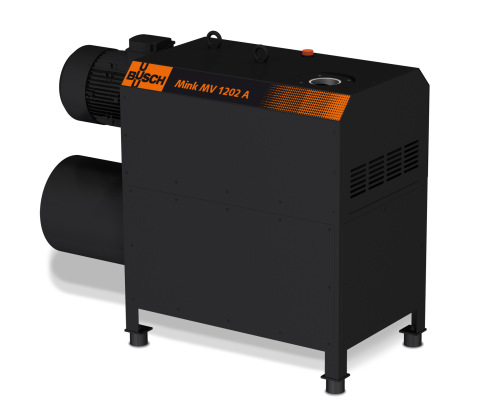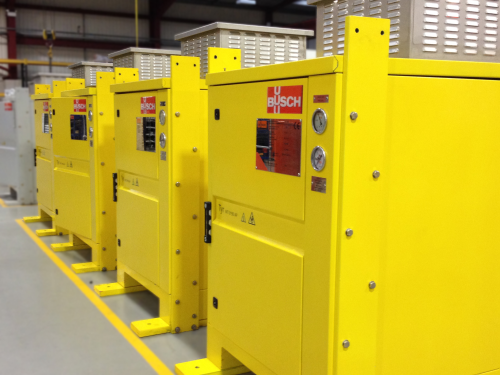 A total of eight specially customised Busch WT0150 Tyr Roots blower packages will be supplied to VWS Westgarth for installation on four floating production storage and offloading (FPSO) facilities offshore Brazil. The Tyrs are installed in pairs on each FPSO and are being used in the seawater treatment plant as part of the oil extraction process.
Each Tyr has been modified to meet the exact specifications as outlined by VWS Westgarth and features a reinforced and strengthened frame designed to handle the rigours of the necessary tough installation methods and operations on an FPSO. Other adaptations include a purpose built cowl with a dedicated ventilation fan and stainless steel pipework fitted on the discharge. 
Specialist paint that is appropriate for offshore use and perfectly matches the specified colour scheme for each FPSO has also been used on the casing for each Tyr. Explosion proof motors designed for offshore applications have been installed in line with the exact specification requirements of the FPSO owners and operators.
MMF beds The Tyrs are being used to 'air scour' or clean multi-media filter (MMF) beds, which are enclosed pressure vessels filled with layers of mineral aggregates of various sizes to remove organic and inorganic solids from the seawater. Over time these solids build up and cause the MMF equipment to become inefficient and the air scouring or 'back flushing' as it is also known, will remedy the problem and return the MMF to efficient operation status.
As part of the cleaning procedure, the flow of air passes through the media bed in an upward direction to break-up and dislodge the waste deposits. When the motor is turned on, the air is drawn through the overpressure blower and compressed within the package assembly. This compressed air is then discharged through pipework to the media filter bed in a series of cycles. Each Tyr blower alternates between cycles, meaning that one will be working while the other is on stand-by.
Important projects Geoff Jennings, systems director for Busch (UK) Limited, said: "We're pleased to be working with VWS Westgarth to provide seawater filtration packages for these important projects and our ability to customise our Tyr rotary lobe blowers to meet their exact requirements was among the important factors that enabled us to secure this contract.
"We have a strong track record in the provision of custom built systems for the oil and gas sector. As well as our technical knowledge and ability, our expertise also extends to assisting our customers with meeting any necessary regulations and providing the right documentation for intricate and precise projects such as this."
VWS Westgarth is owned by Veolia Water Solutions & Technologies, a subsidiary of Veolia Environment the worldwide leader of water treatment solutions.