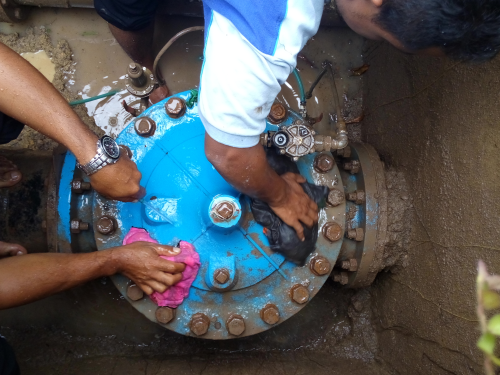 The city's population stands at around 850,000 and the Melaka Water Company Ltd. (SAMB) manages roughly 270,000 service connections for commercial and residential customers. In 2008 leakage rates were running at 33.9%, accounting for 152,000 m3 of water loss every day, which added up to a staggering 55.6 million m3 per year. In addition, the city had 4,800 km of ageing pipelines which meant that pipe bursts were around 3,000 a year. Each pipe burst compounded the water loss problem, which was only halted when maintenance teams arrived. The problem was there were so many similar occurrences and so crews were constantly working to react to the next emergency.
Long-term vision
Mr Datuk Ir Haji Mohd Khalid Bin Haji Nasir, CEO of the Melaka Water Company Ltd said: "It was clear the current situation needed to be fi xed, but our long-term vision was equally important and so we implemented a massive overhaul that would not only fix our problems today, but give us a long-term sustainable plan which would allow for predicted population growth."
Singer Valve Malaysia was called in to work with the city's Non-Revenue Water (NRW) loss team to help select and advise on a range of diaphragm operated automatic control valves to assist Melaka in implementing its District Metered Area (DMA) plan.
"Pipe bursts and leakage rates are directly aff ected by water pressure and the selection of the pilot-operated control valves that are required, is a crucial part of any NRW plan," said Anand Anandarajah, director of operations for Singer Valve Malaysia. "Using DMAs to reduce pressure is the most immediate and cost effective approach to dealing with NRW losses."
After completing a water audit it was determined that 168 DMAs needed to be established to manage the entire utilities distribution system.
The DMAs enabled the utility to measure the overall fl ow in and out of a zone and, with the help of calibrated meters, the team could then determine the most challenged zones that needed serious attention with infrastructure replacements.
The second stage was to manage the pressure in each zone to supply exactly the right amount of pressure that customers in each DMA required. For every 1% increase of pressure the leakage rate goes up by 1.15%, so maintaining the right pressure is crucial. It is also typical for demand to fluctuate between night and day, causing the pressure to fl uctuate, which the pressure reducing valve (PRV) needs to accommodate for.
Full control
SAMB put in a combination of 138 pressure reducing and altitude valves that ranged in size from 100 mm to 200 mm to provide a consistent fl ow in each DMA as required by their users. The PRVs and their associated pilot system sense the downstream pressure through a connection at the valve outlet so that when the pressure changes, the downstream pressure set point remains constant. This controls the valve position by accurately controlling the chamber above the diaphragm. This ensures that the downstream pressure is maintained steady at the set-point regardless of fluctuation in flow or upstream pressure.
In numerous DMAs where upstream pressures range between 3 to 4 bar, the Singer 2 PR SC BT was used to reduce the required downstream pressure of 1.5 bar in the day and 1 bar at night by a simple switch between day and night utilising a battery timer and two pressure set points. The battery timer in conjunction with a latching solenoid allows downstream pressure to be selected based on time requirements and utilization of two pressure reducing pilots. One controls night time pressure downstream of the valve (1 bar) while the other controls day time pressure downstream of the valve (1.5 bar). The units utilizing the battery timers are typically used when more precise control is required beyond that of a normal PRV. This can significantly reduce water loss by giving two pressure options instead of one. They can also be retrofitted easily to an existing PRV, should the requirements change.
Melaka's older style level valves had also become inaccurate and allowed reservoirs to overfl ow, wasting water and increasing NRW. To fi x this they were replaced with altitude valves that are used to control the maximum levels of the reservoirs and accurately control the drawdown of the reservoirs before re-filling. This new level control technology with altitude pilots, now accurately controls the levels repeatedly and dependably with minimal maintenance.
The end result is that pressure leakage has been reduced from 33.9% to 21.4%, which is a total saving of US$5,232,857 per year. Pipe bursts are down by 93% from 3000 to 200 a year and reservoirs are maintaining their desired levels of water without overfl owing, which will help delay water rations in the dry season. By managing water pressure Melaka was able to realize some significant savings so they can now provide more connections and with a 36% increase in revenues, infrastructure upgrades are a manageable part of operations. The utility also updated their geographic information system (GIS) and network modelling for monitoring the flow of the entire distribution system at all times, so that crews are now able to schedule proactive maintenance.
These substantial cost savings and significant results were recognized by two Federal Government awards, one for green technology in reducing NRW loss and the other for the improvements to the entire system.
"We have dramatically increased the life span of our water assets and we are now confident that we have an efficient consistent delivery of quality water for all our residents," said Mr Datuk Ir Haji Mohd Khalid Bin Haji Nasir. 
This article first appeared on www.wateronline.com