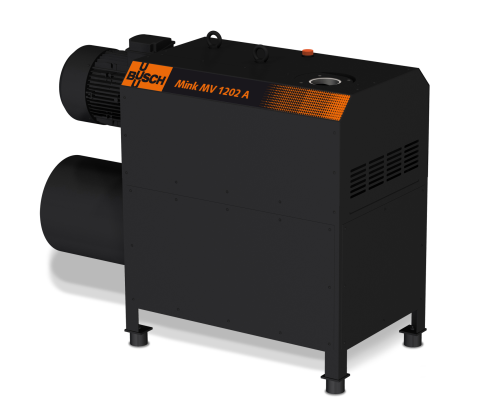 Busch has expanded its series of Mink dry running rotary claw vacuum pumps with the arrival of the new Mink MV 1202 A, which is the largest of its type made by the company. 
In total, Busch now offers Mink claw vacuum pumps in eleven sizes, which cover the range from 62 up to 950 cubic metres per hour operating at 50 Hz (75 - 1150 m3/h at 60 Hz).
The new Mink MV 1202 A achieves an ultimate pressure of 200 mbar, making it an ideal vacuum generator for many varied sectors and applications. These include pneumatic conveying, clamping provision with CNC processing machines in the woodworking sector, as well as degassing or forming processes in the plastics industry. This new model is also highly suitable for use with centralised vacuum systems. 
Mink vacuum pumps achieve an extremely high level of efficiency, which in turn helps the user keep energy consumption to a minimum, without affecting performance. An additional benefit of claw vacuum technology is that it is virtually maintenance free, due to the non-contact operation of the moving parts inside the vacuum pump.  Therefore any maintenance requirements, such as the inspection or replacement of worn parts, are virtually eliminated. 
Without the requirement for any operating fluids in the compression chamber, there are no additional costs for their purchase, provision or disposal. The vacuum pumps are air-cooled and the high operational reliability and long life cycles are also a result of their non-contact compression without operating fluids. A further benefit, states Busch, is the smart silencer which enables quiet operation.