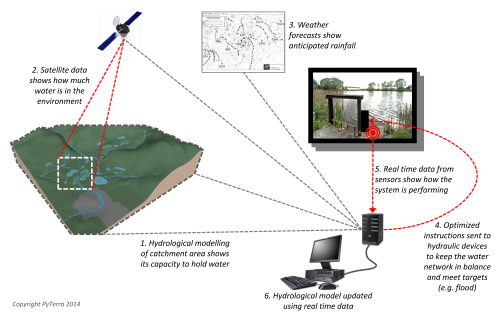 Professional services firm WSP, a consultant from Imperial College London and technology company PyTerra have detailed the system, which would automatically catch, store and release rainwater throughout the year using a computerised network of water control devices which respond to weather forecasts. A series of underground pipes would connect the various ponds, streams and wetlands in a catchment or sub-catchment and hydraulic devices, such as a valve, would control the flow. Small transmitters in the field would receive signals sent from the central system, and open or close the valves as needed.
The system would use weather forecast data as well as real-time 'big data' from hi-tech water sensors and satellites to work out where and when capacity is needed.
By creating and controlling these micro-networks of water storage areas, users can maximise the performance of water across a catchment, draining it down rapidly if heavy rain is expected which could otherwise create surface flooding, or using it to store water in dry periods. 
"There is a simple link between flooding, drought and environmental problems in our rivers – rain – too much or too little," said David Arscott, managing director of PyTerra. "The challenge is getting the right amount of rainwater in the right place at the right time and our new technology may now have an answer for that challenge."
The ability to harvest water in wet months also means land owners could join together and potentially sell excess water supplies to water companies, or provide other services such as water control for agricultural/industrial processes and infrastructure projects.
Ola Holmstrom, UK head of water at WSP commented: "It's crucial that we get smart in our approach to flooding and being able to manage a whole catchment at the push of a button is about as smart as it gets. When the water industry is deregulated in the next few years and smaller suppliers can contribute to the 'water-grid' in a similar way to electricity feed-in tariffs, this network approach will create an opportunity for adjoining land owners to jointly sell their water services."
Imperial College plans to work with the UK Environment Agency to set up a programme of pilot studies for the system.