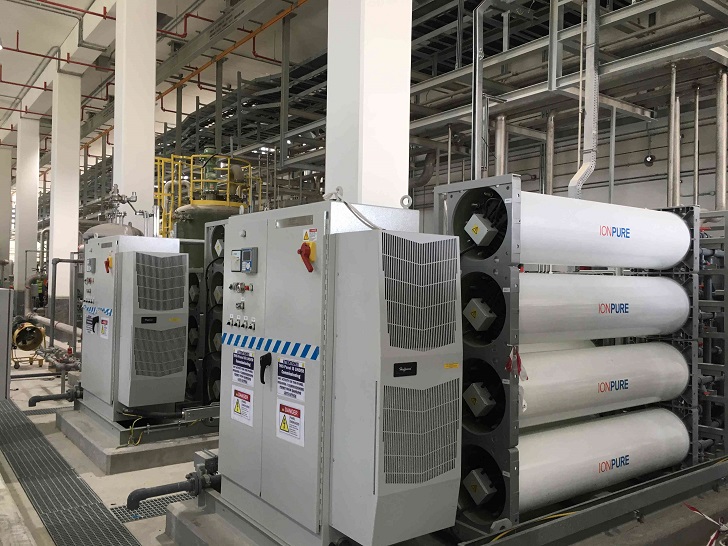 Evoqua's Ionpure brand continuous electro-deionization (CEDI) modules have been installed as part of the Qatar Integrated Water and Power Plant (IWPP) project. The IWPP project will have the capacity to produce 136.5 million gallons per day of potable water from desalination and will generate 2520 MW of electricity.
The CEDI system polishes Reverse Osmosis permeate, generating ultrapure water (UPW) without chemical regeneration. Enhanced Performance Ionpure VNX 55-EP modules were selected in this role for their ability to produce higher salt and silica rejection, and at a higher flow rate, than any other EDI available in the market.
Designed to meet extremely low sodium, chloride and sulfate specifications, and removing more than 95% silica and boron, these modules consistently produce a 0,1 µS/cm conductivity (10 Megohm-cm resistivity) measure of product water quality.
Custom engineering
Specifically, three skids of seven Ionpure VNX55-EP modules were custom engineered to provide the high level of demineralization and high production rate required. The system is designed to deliver a total of 1,100 gallons per minute for applications including boiler feed to the gas-fired, combined cycle power generation facility at Umm Al Houl, near the Qatar capital, Dohar.
Reverse osmosis, including the RO/CEDI installation, will account for 60 million gallons of the daily water production from seawater desalination, while the remainder is to be supplied by multiple-stage flash (MSF) technology.
The first phase of the Qatar IWPP project is completing, with overall completion scheduled for Q3 2018.