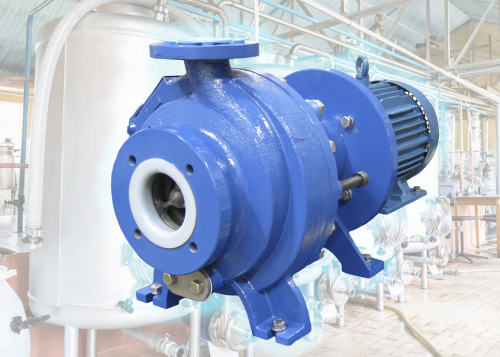 The additions increase maximum flow rates up to 160 m3 /hr and maximum differential heads to 67 metres with applications in chemical processing and water treatment.
The leak-free pumps combine a ductile iron casing with a Tefzel (ETFE) lining for corrosion resistance. They feature neodymium magnets which drive the impeller through a carbon-filled PTFE lined barrier which FTI says means with no environmental emissions, no double mechanical seal costs and no seal-support systems.
Other features include a Dri-Coat silicon carbide bearing / shaft option which prevents failure in the event of short-term dry-running and a two-piece outer drive with a mounting system that allows the drive magnet to be fitted to the motor shaft without having to measure the magnet set-height.
A Kevlar reinforced barrier also reduces the air gap between driven and driving magnet and so maximises magnetic power to transmission enabling maximum working pressure to be increased to 300 psi (20.7 bar).
The range is available from Michael Smith Engineers.