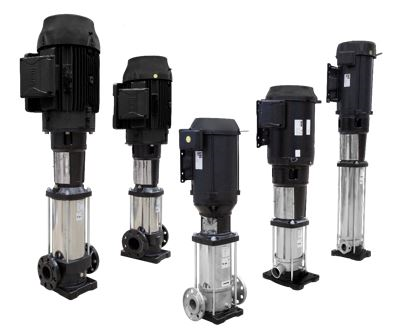 Designed to deliver clean water under pressure for a wide range of applications, these booster pumps are now available in 3, 5, 9, 15, 20, 30, 45, 65 and 95 m3/h options with a flow range up to 600 gpm and 750 feet of total dynamic head (TDH).
Corrosive water applications
Each pump features all 316 stainless steel hydraulic components for durability in corrosive water applications. Impellers and diffuser stages are fabricated from heavy gauge stainless steel using advanced welding technology. The oversized ball bearing/coupler assembly eliminates the need for stack height adjustment and supports the axial thrust load. The elimination of axial thrust allows the VR Series pumps to utilize industry standard motors instead of the high-thrust motors commonly required in similar industry applications.
Long life
Installation is made easier with standard in-line ports, along with the choice of round, Victaulic, or oval flange connections. The construction of these pumps is intended to ensure long life and make them suitable for use in many of the toughest applications, including: water supply and pressure boosting; heating, ventilation and air conditioning; light industry; water treatment; irrigation and agriculture.