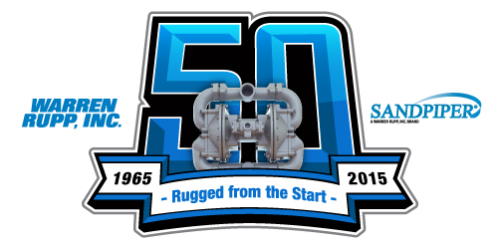 Founded in Mansfield, Ohio in 1965 by Warren E Rupp and Charles E Young Jr, the company was established with the vision of designing, building and marketing "new and different pumps".
Warren Rupp went on to develop the industry's first heavy duty ball and flap pumps. The pump designs were tested repeatedly with an abrasive silica sand in order to replicate the harsh environments in which these pumps would operate. Because of the use of this silica sand and Warren E Rupp's interest in birds, the SANDPIPER brand was born.
Warren Rupp, now part of IDEX Corp, has expanded the SANDPIPER line to a full range of heavy duty ball and flap pumps as well as standard duty and containment duty pumps. The company's most recent product introduction expanded the flap valve line-up with a 2" plastic flap pump. Warren Rupp also offers Versa-Matic and Blagdon pumps and Pumper Parts replacement parts.
"I continue to be impressed by the passion and commitment our employees have for this company, our products, and ultimately our customers," says Scott Aiello, Warren Rupp's general manager. "I fully believe that this passion and commitment is a carry-over from legacy of innovation, quality and customer service created by Warren Rupp. We are excited to celebrate and honour this legacy while building upon it with innovative and rugged solutions that handle our customers' most demanding applications."