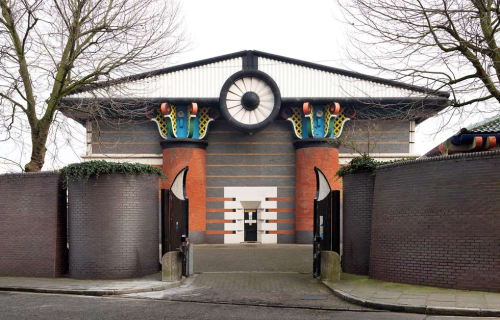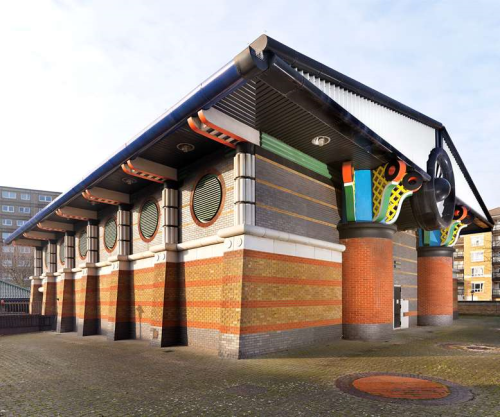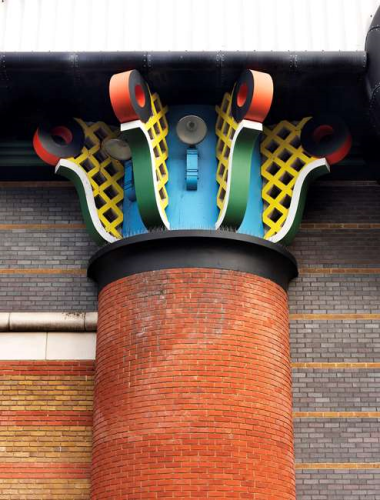 The Grade II listing of the building was awarded by the UK's Department for Culture, Media and Sport on the advice of Historic England, the public body that looks after England's historic environment. It joins the 8% of buildings listed in the upper categories of Grade II and Grade I, a select group of England's finest and most important buildings.
The Isle of Dogs Storm Water Pumping Station was built between 1986 and 1988 for Thames Water. It is the first example of Outram's mature style and remains one of his best known buildings. It is still in use by Thames Water today.
Historic England states that Outram's pumping station returns to the tradition of impressive municipal pumping stations which largely came to an end in the 1930s. Beacons of this tradition include Sir Joseph Bazalgette's richly fanciful Gothic Abbey Mills Pumping Station of 1868. Built over 100 years apart, Bazalgette and Outram's polychromatic pumping stations share an exuberant celebration of their utilitarian function; the earlier building christened a 'cathedral of sewage,' the later a 'temple of storms.'
Post-modernism represents an important strand of late 20th century architecture and cultural heritage. Now that these buildings are over 30 years old, Historic England is assessing the most significant examples of the movement for listing. Outram's pumping station is the first building to be listed as part of this project.
"John Outram's pumping station was one of the most exciting buildings of the 1980s," says Roger Bowdler, Historic England's Director of Listing. "Outram exulted in the panache and exuberance of Classicism, and gave this utterly functional structure an exterior which is unforgettable."
"It is vital that we keep the List up to date: it's really exciting that we are starting to see the very best of post-modern buildings find their place among England's finest works of architecture," he adds.
Read the list entry for the Isle of Dogs pumping station here.