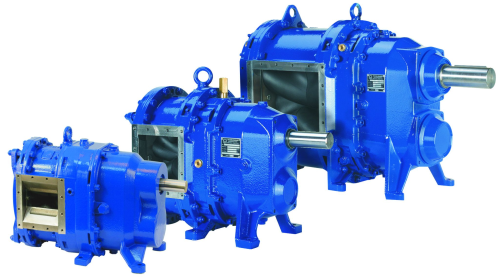 Vogelsang's focus will be on applications in the recycling and disposal sector, especially the food sector. Its rotary lobe pumps are used for gentle and disruption-free pumping of raw materials, such as oil, as well as of dairy and sugar products (liquid sugar, molasses, syrup), or fruit and vegetables. Additional areas of application include filling and emptying tanks and disposing of food waste.
The pumps also handle abrasive and viscous media, as well as media with a high content of incompressible solids and fibers, such as seeds, bones, stones and fibrous material. The pumps offer easy priming and dry running protection; the flow direction can be easily reversed.
With the two new VX230 and VX215 series, Vogelsang offers pump outputs from 3 to 1400 m³/h. Incompressible solids up to the size of a tennis ball can pass through the pumps – without causing damage. The VX215 series even features free passage up to 90 mm.
Maceration technology
Vogelsang will also be showcasing its latest developments in maceration technology. In addition to the RotaCut wet macerator, two expanded models of the XRipper twin-shaft macerator will be presented at IFAT.
Developed to macerate coarse matter in wastewater disposal applications, the XRipper features rotors with a monolithic design which should reduce the occurrence of blockages and resulting damage. The new design facilitates both installation in sewers and maintenance work: the XRipper XRL with SIK is pulled out along a guide rail for direct maintenance. Afterwards, it is returned to its position where it automatically fits into its bracket.
The new XRipper XRS-QG is designed for wastewater pipes and in constricted areas, such as within ducts. It is installed inline along the pipe. For service and maintenance, the gearbox along with the shafts and Ripper rotors can be pulled up and out of the XRS-QG housing so that all other work can be performed outside the confines of the duct. Optimal accessibility of the rotors and gasket makes replacing parts significantly easier.