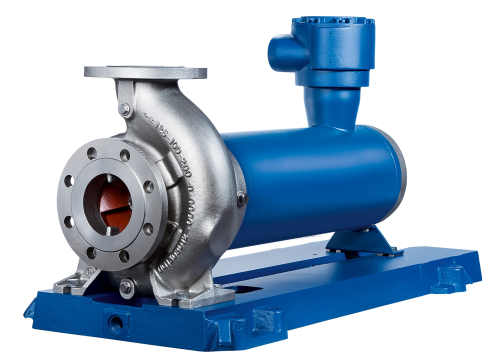 ACHEMA 2015 will see KSB Aktiengesellschaft, Germany, showcase totally leak-free canned motor pumps from the Ecochem Non-Seal range designed to transport hazardous, aggressive, flammable and explosive fluids. The pumps are also capable of handling toxic and extremely hot or cold media as well as volatile or valuable liquids.
Canned motors
This new type series combines KSB's MegaCPK – a standardised chemical pump employed in process engineering – with canned motors built by Japanese cooperation partner Nikkiso. The pumps' dimensions comply with ISO 2858 and meet the requirements of the DIN/EN/ISO 15783 and API 685 standards, with economic operation being ensured via a new energy-optimised electric motor design. The low-noise motor features a corrosion-resistant can made of Hastelloy (2.4610).
The new type series will be available in four standard variants featuring one design each for standard chemical applications, heat transfer fluids, polymerising or ferrite-containing fluids and a special variant for low-boiling fluids and liquefied gases.
Explosion protection requirements
The pump sets have been designed to meet the requirements of explosion protection class II 2 G c Ex de IIC to ATEX, TR and IEC Ex and temperature classes T1 to T5, and can handle fluids at temperatures from – 40°C to + 400°C as standard. The maximum head is 236 m and the maximum flow rate 690 m3/h, while product-lubricated plain bearings made of pure silicon carbide or a silicon-carbide-graphite compound allow the bearing configuration to be optimally matched to the pump's operation and the fluid handled.
If required, the pump casing can also be heated to avoid a blockage developing due to fluid cooling and becoming viscous or solid in the event of standstill. The motors are rated up to 75 kW, and with 16 different motor sizes available, the drive can be precisely tailored to demand. Thanks to the motor bearings' modular design, the number of parts requiring storage can be reduced, cutting warehousing costs.
An E-Monitor available on option monitors the axial and radial condition of the bearings, and its integrated direction-of-rotation indicator eliminates the need for phase rotation measurements during commissioning. As canned motor pumps operate very quietly, the built-in operating status indicator provides a very useful function, especially in loud environments. Power is supplied to the E-Monitor via the motor's terminal box so that no external cabling is required.
Halle 8, H14