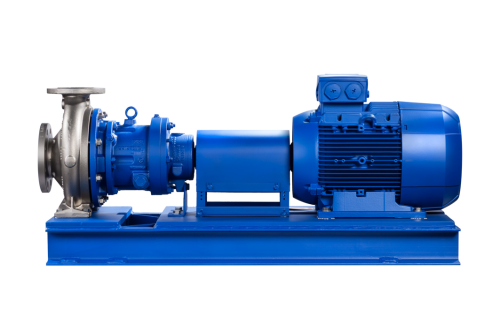 April 2014 saw KSB launch the latest generation of its Magnochem mag-drive pumps. Available in 52 sizes, the new series is primarily characterised by high outputs per size ensuring extremely low energy consumption. All pump characteristics conform to the ISO 2858/EN 22 858/ISO 5199 standards.
The pumps' engineers have paid particular attention to the design of the magnetic coupling and the routing of circulation, cooling and lubricating flows. This allows the operator to choose between four operating modes ranging from a simple internal circulation to a so-called dead-end configuration with an auxiliary hydraulic system. As an option, an external heat exchanger can be installed. This means that the pump set can be optimised for the pumping of polymerising, coagulating and crystallising as well as low-boiling fluids.
The containment shrouds are available in metals such as Hastelloy or Titanium and can also be made of zirconium oxide depending on customer requirements. The latter is extremely resistant to corrosion and does not produce eddy currents when a magnetic field passes through it. Unnecessary heat losses which would reduce output and compromise pump efficiency are thus eliminated. The engineers have selected samarium-cobalt as a material for the magnets as it is highly temperature-resistant and has excellent magnetic characteristics.
Anti-seizure properties
Diamond-coated plain bearings ensure effective anti-seizure properties in the event of insufficient lubrication – a feature which, combined with an optimised arrangement of the radial plain bearings, is particularly beneficial in ensuring the pump's operating reliability. Multiple coupling dimensions are available for each pump size, avoiding the need for oversized magnetic drives. The pumps feature very low vibration levels during operation as each pump rotor is subjected to static and dynamic balancing in the manufacturing process.
At the motor end, optional leakage barriers such as shaft seal rings offer an additional level of reliability and protect the generously dimensioned rolling element bearings as well as the environment from any fluid escaping. The space around the rotor can be monitored using sensors.
As well as the conventional version in back pull-out design, a close-coupled variant will be available in 44 sizes for installation in confined spaces. The type series offers flow rates up to 1,400 m3/h at a maximum head of 233 m. Permissible operating temperatures range from -90 °C to +300 °C.