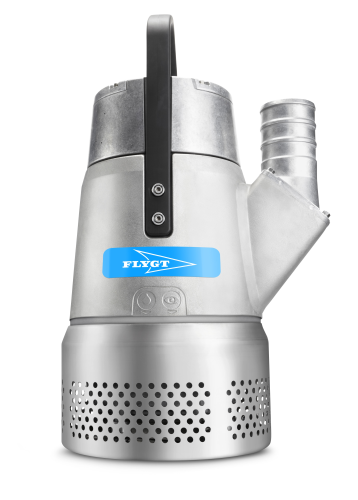 Provider of complete fluid handling solutions, Xylem Water Solutions UK, has launched the latest line of its leading dewatering pump range, the Flygt BIBO.
The new Flygt BIBO range is modelled on the iconic Flygt BIBO pump launched in the 1960s and is designed to provide superior performance and withstand the most challenging of operating conditions in the most efficient way possible. 
Ideally suited to the dewatering applications in the mining and quarrying markets and the pumps are also capable of active and reactive dewatering in both construction and tunnelling projects.
Steve Heathcote, product manager at Xylem, said: "When designing the Flygt BIBO, we wanted to create a pump that needed minimal overseeing; a pump that end-users could simply switch on and trust to get the job done.  I believe we have accomplished this with this latest version from our leading dewatering range."
The new Flygt BIBO incorporates a number of new features including an air valve to further aid dry running capabilities, whilst maintaining the original range of innovative features. It also features a unique closed impeller and suction cover with Dura-Pump™ grooves to sweep abrasive particles away from the impeller neck , which is enclosed within a tough aluminium outer casing. This makes the hydraulics at least three times as resistant to wear compared to pumps with open impellers.
The impeller itself is manufactured from specially-designed Hard-Iron™ and for further durability other parts are coated in Xylem's wear-resistant PolyLife™ coating. The new Flygt BIBO also incorporates a wide base for added stability; rubber shock absorbers and a sealed-off terminal board to protect the pump from consequential damage.
Xylem's latest range of Flygt BIBO dewatering pumps cover medium, high and super-high pressures to handle almost any application. There are four models in the 2013 range with power ratings of 3.2-3.7kW to 18kW..