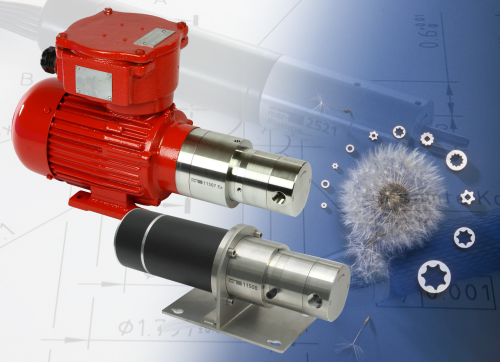 The HNP 11500 Series of positive displacement, internal gear pumps provide a flow output between 0.2 to 1,150 ml/min and differential pressures between 0-60 Bar or 0-150 Bar, depending on the viscosity of the process fluid.
Three motor options are available for the gear pumps: AC, DC and an ATEX rated explosion proof AC motor version which is suitable for use in a hazardous areas. Tungsten carbide rotors and bearings along with other hard construction materials, such as ceramics, are available.
The HNP 11500 Series of positive displacement internal gear pumps are suitable for a range of liquids transfer duties in chemical processing, pharmaceutical and industrial applications, such as pumping organic compounds in continuous processing systems in pharmaceuticals manufacturing, pulse-less small capacity dosing of flavours and additives in food processing equipment and precise, and filling of medical capsules.  
Other potential applications for the HNP 11500 series of gear pumps from Michael Smith Engineers include analytical instrumentation, sampling, robotics, fuel cells, particle and DNA analysis, biological cell handling, ink jet printing, minimum quantity lubrication systems, aromatizing and PCB cooling.