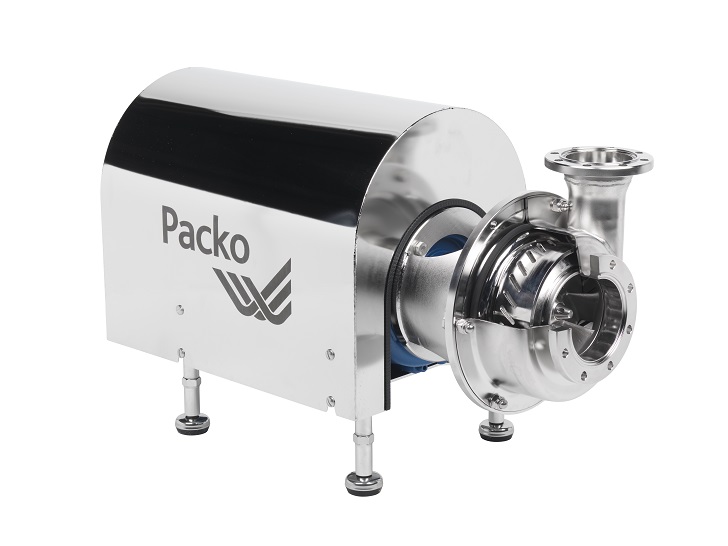 Packo Pumps in Belgium and Daniatech in Denmark have joined together to produce new high-shear pumps (SFP).
The Packo SFP are based on the company's FP pumps and retain the same options and share most spares (motors and seals are normalized).
The patented rotor-stator design was optimized with CFD which, the manufacturers claim, makes energy consumption is 40% to 50% lower compared to SFP of other premium brands. The pumps can be fitted with a smaller motor and the possible frequency convertor is also smaller. The optimized flow through the rotor-stator aims for quiet operation.
The SFPs are plug-and-play mixing units that combine the mixing and pumping function in one machine, saving maintenance and floor space. They have pumping capacities up to 200 m³/h and up to 80 m differential pressure.
Food and beverage applications
These features, together with the hygienic design, make the Packo SFP suitable in dairy, ice cream, prepared food, beverage, bakery, marmalade and similar industries. Where static mixers, dynamic mixers and agitators can give satisfactory results for simple duties such as blending liquids of similar viscosity and density, Pako claims that its SFP can reduce mixing times up to 95% in processes where stable emulsions are needed, particle size has to be reduced or texture agents (e.g. xanthan, alginate, pectin, carboxymethyl cellulose, carob, gelatin,…) have to be activated.
Recently elevated shear rates of up to 95.000 s-1, means that the SFP are suitable for processes where traditionally a homogenizer was needed. Ultra-high shear values, allows Packo SFP to give enough mechanical work to the pumped liquid to transform yoghurt into drinking yoghurt.
Both Packo Pumps and Danitech will be attending Anuga Foodtech, Cologned, Germany from 20-23 March 2018.