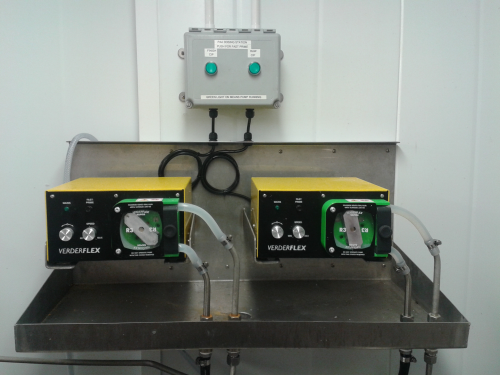 One of the largest UK manufacturers of fresh dairy products for the food industry was using air diaphragm pumps to dose peracetic acid into the final rinse water of both raw and finished CIP (Clean-in-place) routines. This is a critical hygiene process that helps to maintain the hygienic condition of the process line without the need for dismantling of the pump and pipe work.
In order to meet the M&S specification the dairy manufacturer required an upgrade of the existing CIP room and a new cost effective pump solution. The existing pumping system was experiencing vapour head locking and chemical dosing issues, leading to extensive downtime for maintenance. The dosing of the peracetic acid was inconsistent, which incurred the risk of the residual cleaning agents contaminating the line as they were not flushed.
Solution
The robust nature of the Verderflex Economy EV3000 pump was the ideal pumping solution for this industial application to pump medium that is highly viscous & chemically corrosive. The pump has to be able to deliver 80-150 ml/min, to make a 1% CIP solution and allow the customer to run an intermittent & controlled dosing duty cycle.
The simple control features of the Economy EV3000 peristaltic cased tube pump include: • Direction switch • Manual control potentiometer • Fast-prime push-button • Rotary speed-control
The pump's features ensure that the customer has a simple and efficient pump solution perfect for their requirements. The pump head of the EV3000 includes an additional benefit of a rapid tube change, which significantly speeds up their maintenance process.
Result
The dairy manufacturer was rewarded with a cost-effective peristaltic pumping solution, which required minimal maintenance and ensured that the CIP procedure was accurate, reliable and maintained the hygienic conditions necessary for high quality products and audit compliance.