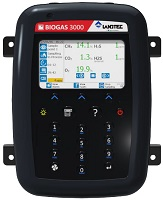 A subsidiary of Graco, Inc., QED's next generation ­fixed gas analyzer offers optimal continuous monitoring of the complete gas production process. Building on field-proven gas analysis technology, the compact, self-contained BIOGAS 3000 system offers cost-effective online monitoring that is ideal for anaerobic digestion, biogas monitoring, and landfill gas monitoring applications.
The new BIOGAS 3000 can use up to four sample ports to monitor methane (CH4), carbon dioxide (CO2), and oxygen (O2), with optional monitoring of hydrogen sulfide (H2S), hydrogen (H2) and carbon monoxide (CO) levels – operators can choose up to five gases to monitor. The device features easy self-installation and maintenance. The BIOGAS 3000 offers simple user calibration and is calibrated to ISO/IEC 17025 standards for optimum accuracy.
The BIOGAS 3000 is available with a continuous monitoring option for CH4, CO2 and O2. By incorporating external H2S sensors in ranges from 50 to 10,000 parts per million (ppm), it can be used to monitor before and after desulphurization.
Built with an IP65-rated enclosure, the BIOGAS 3000 is certified for use in potentially explosive atmospheres (ATEX) and IECEx (IEC System for Certification to Standards Relating to Equipment for Use in Explosive Atmospheres) Zone 2 areas.