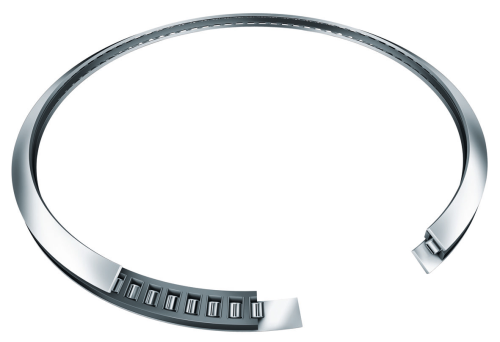 They are suitable for applications including industrial robots, mechanical handling systems and industrial gearboxes.  
AXS and SGL new bearings are cylindrical rolling bearings with raceways oblique to the bearing axis, and can, according to the company, support significant loads and high tilting moments.    
AXS bearings have a conical bearing ring, with a roller and cage assembly runs between these two hardened rings. The bearing diameters are currently available from 8-175 mm. The contact angle is 45 degrees, although bearings with a 60-degree contact angle can be used for higher axial forces and high tilting moments. The AXS angular contact rolling bearing has a bearing ring thickness of 1.2 mm and radial section heights of 7 mm and 10 mm.  
SGL bearings are used predominantly in 'O' arrangements, and, depending on the requirements, the bearing arrangement can be easily adjusted from bearing clearance to bearing preload. The bearing cross-section, which is significantly larger compared to AXS bearings, provides higher radial and axial load carrying capacity.  
The contact angle of an SGL bearing is normally 45 degrees, depending on the load conditions and application. SGL bearing diameters are currently available from 8-200 mm. The bearings have significantly higher tilting rigidity than conventional angular contact ball bearings. The SGL series corresponds to dimension series 18 and so are directly interchangeable with series 718.  
The SGL bearing is best used where the rating life and tilting rigidity in the application need to be increased further. The SGL is therefore a suitable alternative, for example, to crossed roller bearings under higher requirements.