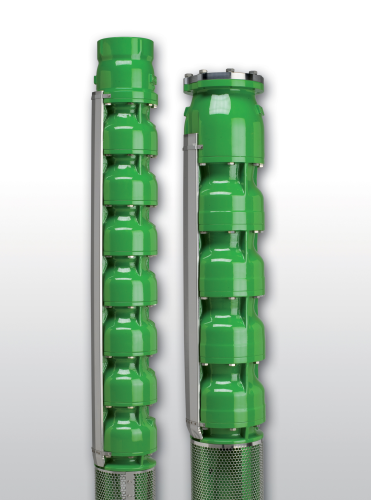 With this new mixed-flow line, Rovatti's Extreme range is enlarged with an even bigger, powerful solution for deep installations.
Designed and developed to satisfy the most severe working conditions with the purpose of pumping corrosive and aggressive fluids in several sectors (such as pumping sea water in reverse osmosis applications) with the new 16 in 16EX series the Rovatti Extreme range of borehole pumps can meet flow requirements up to 1200 m3/h, head up to 700 m (thanks to the radial encapsulated 8ERCX series) and motor power up to 400 kW representing.
The company is also promoting the its 6 in and 8 in vertical turbine pumps 6VX and 8VX series. This range of products have been engineered and designed for pumping of aggressive liquids in a range of industrial, marine and civil applications.
AISI 316 casted stainless steel
All parts in contact with the pumped liquid are manufactured in AISI 316 casted stainless steel, shafts and couplings are made of AISI 329 Duplex stainless steel. Through this construction the hydraulic components do not show welding joints and are characterized by compact and smooth surfaces.
These features are designed to make all pumps in the VX range more suitable than products obtained by cold-stamping process, especially with high abrasive and aggressive waters. Furthermore impellers are locked on the shafts by unified keys and are equipped with shaft protecting spacer bushes in order to considerably improve pump reliability.