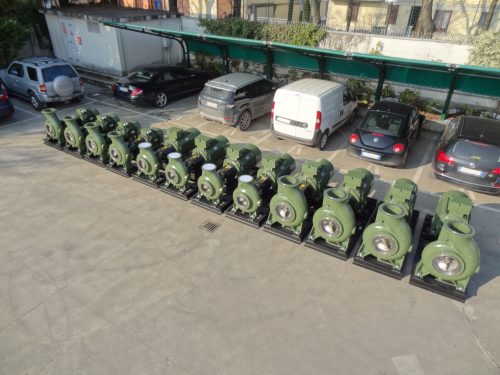 This year, the Italian pump manufacturer, Saer, has launched several new products such as the compact and noiseless pressure unit T-ONE and SL-Solar System, which ensures water distribution to all areas, even where there is little or no power supply.
WETEX launch
The latest product in the Saer family is the centrifugal single stage pumps for drainage and slurry water for dry installation, which will be presented during the WETEX exhibition in Dubai on 21-23 April. 
The pumps can be used for the pumping of industrial and domestic wastewater, viscous and corrosive liquids containing fibrous and solid substances, and agricultural sewage.
The pumps are available with both open and closed impellers. By the end of the year Saer will increase the range. At the moment, three models are available and all with the stainless steel AISI 316 impeller:
NCA 200/400
NCA 250/315
NCA 300/400
Main data:
Max flow 1600 m3/h
Max head 60 m
Max power: 160 kW.
This series is aimed at customers who demand a high class, reliable product, fully made in Italy, and give a complete service for all the needs related to water pumping.
Due to the pumps' manufacture in Italy, Saer claims that it is able to offer one of the best delivery time on the market for any pump available in its range, including: high pressure pumps up to 60 bars of head, split casing pumps for flow up to 5000 m3/h, submersible pumps from 4in up to 14in and motors available up to 400 hp also with double insulation for hot water.
Surface motors
Saer is also able to offer normalized pumps, end suctions, residential pumps and booster sets. Saer has also its own production of surface motors up to 55 kW 4 and 2 poles in different class of efficiency and voltages.
All the production can be supplied in several metallurgies (cast iron, bronze, stainless steel, DUPLEX etc. according to the application: mining, naval, off-shore, agriculture, HVAC, RO, industrial, civil and many others.