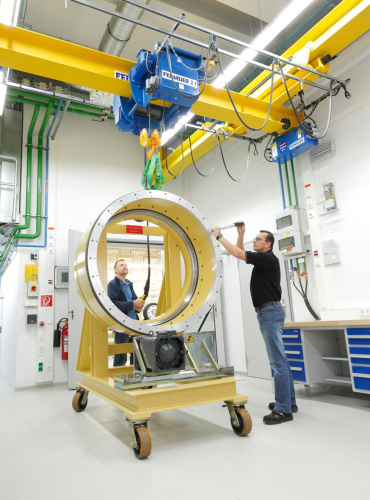 Precision bearing manufacturer Schaeffler has opened a new acoustic testing facility at its technical development centre in Herzogenaurach, Germany.
The new 180sq metre Acoustic Competence Centre is equipped with state-of-the-art measurement and computer technologies, three test rooms and a 'wobble room'.
The facility will enable Schaeffler to investigate the origins of noise using the latest analytical methods and provide valuable clues as to where and how noise is generated and what can be done to eliminate noise in the early phase of development projects.
Typical tests carried out at the new facility include the investigation of airborne sound and vibration behaviour in vehicle drive trains, chassis and assemblies such as ball screw drives and roll stabilisers. In addition, Schaeffler will be able to examine and improve the design of plain bearings and rolling bearings used in a variety of industrial and automotive applications, including production machinery, wind turbines, vehicle drive trains, hydroelectric power plants, rail, medical technology and consumer goods.
In drives technology, customers now require systems that offer reduced friction combined with quiet running individual system components. This is particularly true of bearings for electric motors and other devices in the home and office environments.
Professor Dr Peter Gutzmer, CTO at Schaeffler, commented: "The Acoustic Competence Centre is a further extension of our expertise and will enable Schaeffler to coordinate and optimise its development activities globally and to adapt its products to meet customer needs even better than before."
The Acoustic Competence Centre is equipped with a large acoustic vehicle test bay, a fatigue test room and an area with extensive mounting facilities. Other facilities include special spring-mounted test cuboids (pods) that move independently from the rest of the building. These cuboids cover a floor space of 30-50sqe metres – the largest weighing more than 130 tonnes. This "room-inside-a-room" concept enables the cuboids to be decoupled from the oscillations of the building during tests. The walls of the interior rooms are constructed from extremely high- density (> 2,400 kg/m³) bricks manufactured in Sweden. In order to meet the sensitive metrological requirements, the interior ceilings and walls of the test rooms are lined with up to 35cm-thick acoustic broadband compact absorbers. 
Dr Alfred Pecher, test manager at the Acoustic Competence Centre commented: "Due to the construction measures taken, it is possible to eliminate noise intruding into the test rooms from outside, such as the sounds of trucks passing by, enabling us to obtain technically accurate measurement results. Our extensive equipment includes a high quality air- and structure-borne sound sensor system, vibrometry, high speed cameras and design calculation and simulation tools, including analysis software."