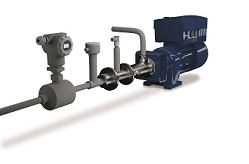 It comprises a progressive cavity (PC) pump with an intelligent drive and controls. This combines the advantages of PC pump technology with enhanced control and monitoring within the pump. Users only need to input the proportional flow ratio and the pump monitors and adjusts automatically.
The SDP has an intelligent inverter drive which is programmed either locally via an HMI or centrally via a fieldbus interface. It can also be controlled via analogue/digital I/Os either locally or remotely by a PLC. 
Smart dosing pumps are available on pre-wired skids, instantly ready for installation and integration within central systems. The accuracy of both batch and continuous flow is ensured and this ensures the lowest life-cycle costs are incurred.