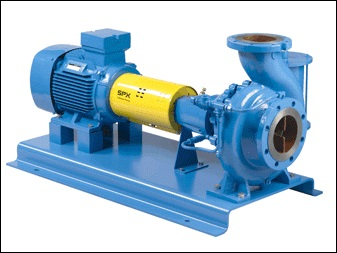 The Johnson Pump brand includes the CombiSump, CombiSumpMag, CombiPro, CombiProMag and CombiProV ranges. These pumps are part of Johnson Pump's Combi-system, which provides modular solutions using common components shared across different models. A choice of materials, impellers and sealing options means the pumps can meet a wide range of application requirements including lube oil, condensate and water pumping duties.
SPX Flow reports that the modularity and flexible design options offered by the Combi ranges, combined with their reliability, ensures high performance with low installation and ongoing maintenance costs.
Thin liquid use
The CombiSump and CombiSumpMag are vertical long shaft sump pumps designed for use with thin liquids. They have a minimum submersible depth and ensure increased reliability with highly effective silicon carbide axial and radial bearings which are lubricated by the pumped liquids. The electric motor is situated at a distance from the pumped liquid and pump depth can be varied using multiple pump shafts with intermediate bearings to meet specific application requirements.
These pumps are designed for low Net Positive Suction Head (NSPH) values with optimised hydraulic performance. They offer easy maintenance in compact form and can meet a wide span of duties. Base plates are designed to meet existing support arrangements for easy installation.
The CombiSump offers options for mechanical or packed gland seals. The CombiSumpMag has a magnetic coupling which has the advantage of avoiding leaks with an hermetic seal in a relatively simple pump configuration.
Hydrocarbon duties
The CombiPro range of horizontal centerline supported centrifugal pumps is said to be ideal for hydrocarbon duties. They have a standardised seal chamber designed to fit all API 682 seal configurations with a choice of single or dual seal construction and the option of a seal less design using a magnetic coupling in accordance with API 685.
The pumps are robustly designed, complete units on API 610 base plates. The modularity of the range enables the optimum base plate configuration for each pump/motor combination.
Pumping liquids
Well-suited for use on supply vessels, the CombiPrime is a self-priming, liquid ring pump that does not require a separate vacuum pump, vacuum system or airline within its installation. SPX says that this design offers exceptional reliability in the toughest operational circumstances for pumping of clean or slightly polluted liquids in services such as firefighting, bilge and ballast and other general duty pumping applications.
Requiring just one power supply running to its motor, the pump offers a relatively low power solution that may be particularly advantageous in an emergency situation where alternative configurations that use a venturi require additional power to drive the compressor in order to self-prime.