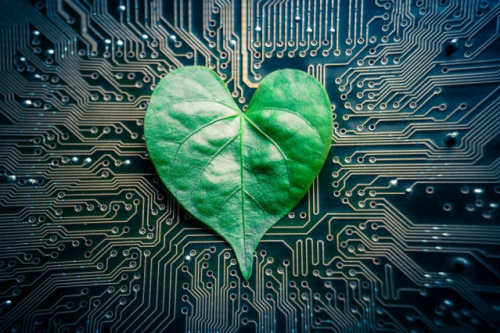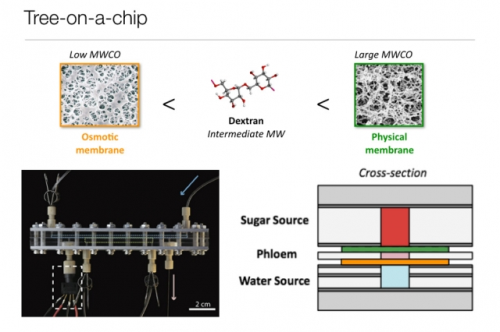 Trees and other plants are nature's hydraulic pumps. They pull water up from their roots to the topmost leaves, and pump sugars produced by their leaves back down to the roots. This constant stream of nutrients is shuttled through a system of tissues called xylem and phloem, which are packed together in woody, parallel conduits. Like its natural counterparts, MIT's 'tree-on-a-chip' operates passively, requiring no moving parts or external pumps. It is able to pump water and sugars through the chip at a steady flow rate for several days. Anette 'Peko' Hosoi, professor and associate department head for operations in MIT's Department of Mechanical Engineering, says the chip's passive pumping may be leveraged as a simple hydraulic actuator for small robots.
Small robots
The research group's tree-inspired work grew out of a project on hydraulic robots powered by pumping fluids. Hosoi was interested in designing hydraulic robots at the small scale, that could perform actions similar to much bigger robots. "For small systems, it's often expensive to manufacture tiny moving pieces," Hosoi says. "So we thought, 'What if we could make a small-scale hydraulic system that could generate large pressures, with no moving parts?' And then we asked, 'Does anything do this in nature?' It turns out that trees do."
The general understanding among biologists has been that water, propelled by surface tension, travels up a tree's channels of xylem, then diffuses through a semipermeable membrane and down into channels of phloem that contain sugar and other nutrients. The more sugar there is in the phloem, the more water flows from xylem to phloem to balance out the sugar-to-water gradient, in a passive process known as osmosis. The resulting water flow flushes nutrients down to the roots. Trees and plants are thought to maintain this pumping process as more water is drawn up from their roots. Engineers have previously attempted to design tree-inspired microfluidic pumps, fabricating parts that mimic xylem and phloem, but they found that these designs quickly stopped pumping. Hosoi's student Jean Comtet, a former graduate student in MIT's Department of Mechanical Engineering, identified a third essential part to a tree's pumping system: its leaves, which produce sugars through photosynthesis.
Running on sugar
With this in mind, Hosoi and her team designed their microfluidic pump that mimics a tree's xylem, phloem, and most importantly, its sugar-producing leaves.
The chip (see diagram on the right) was able to passively pump water at a constant flow rate for several days, as opposed to previous designs that only pumped for several minutes. Hosoi envisions that the tree-on-a-chip pump may be built into a small robot to produce hydraulically powered motions, without requiring active pumps or parts. The results of this research, which was supported by the Defense Advance Research Projects Agency, have been published in Nature Plants.