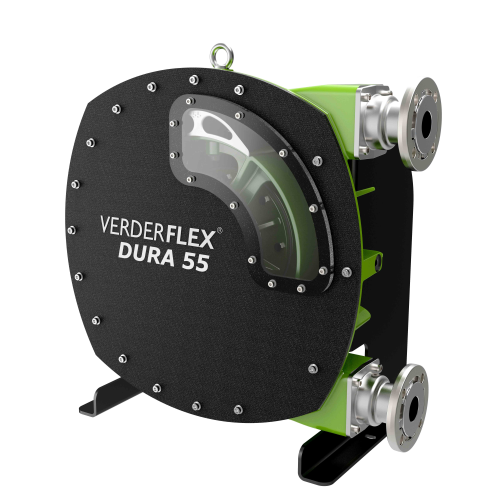 Following the launch of the Verderflex Dura 45 hose pump, Verderflex is expanding the range with the Verderflex Dura 55, which is designed to deliver 20% more flow.The addition of the Verderflex Dura 55 expands the Dura range's flow rates from <1 l/hr to 15.3 m³/hr at pressures up to 16 bar.
According to the manufacturer, the Verderflex Dura 55 is designed to reduce life cycle costs, maximise plant uptime, solve pumping problems associated with dry running liquid streams, shear sensitive polymers, high viscosity sludge and pastes, variable speed dosing, abrasive solids in suspension and off-gassing fluids. The pump can be used in applications including: biogas production, brewing, fly ash recirculation, chemical manufacturing, industrial processing, mining and water treatment.
Low life cycle costs
The Verderflex Dura 55 delivers more flow per revolution. This increases hose life by decreasing the number of revolutions to pump a given volume for longer hose life and expanded maintenance intervals. An attribute behind lowering user's life cycle costs is the Verderflex hose. Like all Verderflex hoses, the Dura 55 hose has the optimum design to maximise strength and longevity.
The pump has a port flange that totally encloses the hose and a quarter turn lock system, intended to halve hose change times and maximise plant uptime. Normally, supplied in 316 Stainless Steel, this flange design also has optional PP & PVDF inserts for aggressive chemical duty options.