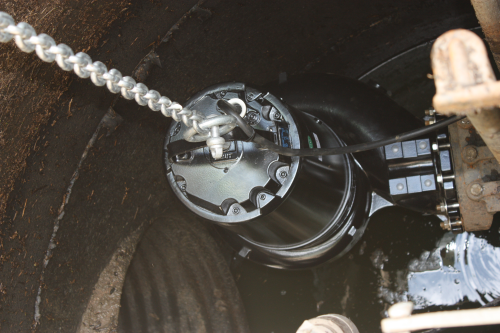 Zenit has been committed for years in the research and development of a new range of innovative products with high electric and hydraulic efficiency. The result of these studies is the new range of 'UNIQA' submersible electric pumps.
The power range covered goes from 4 to 200 kW. The motors, designed to reach the Premium Efficiency Class IE3 according to the CEI EN 60034/30 regulations, can work in uninterrupted service S1 in water up to a temperature of 60°C, as per NEMA A.
The series is based on two different impeller types: high-efficiency vortex or channel impellers. The vortex impeller models can reach the energy efficiency standards even in heavy-duty conditions while the open channel impeller ones are equipped with free passages wider than 80mm and Anti-Clogging-System (ACS) which ensures a smooth functioning even if the water contains fibers.
The whole range is equipped with two mechanical seals and a V-Ring in a closed ecological oil chamber.The patented closed-circuit cooling system enables the motor to cool down through an internal recirculation process which prevents any possible contamination of the glycol used in the process.
The small and medium sized models will be available both in ductile cast iron and in AISI 316 cast iron. Moreover all the pumps in the UNIQA series will be produced in the 60Hz version.
Thanks to its features UNIQA represents the flagship product of the whole Zenit product range and can perfectly suit the needs of engineers and installers who work in the field of water purification and distribution.