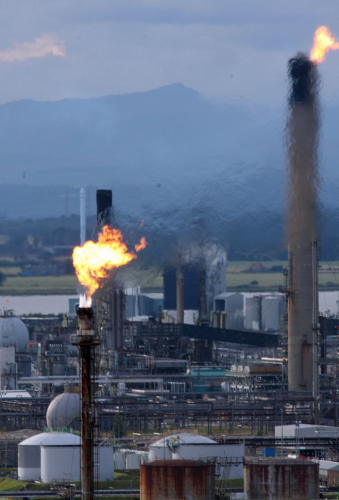 Amarinth has won an order from INEOS to supply two API 610 OH2 pumps with Plan 53B seal support systems for the flare knock-out system at the INEOS onshore refinery at Grangemouth, Scotland. 
The Suffolk-based manufacturer of centrifugal pumps and associated equipment to the Oil & Gas, petrochemical, chemical and industrial markets, is to  supply the mercaptan oxidation (Merox) process at the Grangemouth plant which requires two API 610 OH2 pumps to remove the condensate that collects in the flare knock-out drums during the refining process.
The pumps would only be operated infrequently, sometimes being dormant for weeks, but would then have to start reliably on-demand when the trigger level in the knock-out drums was reached.
The Grangemouth refinery is situated next to the sea and so the pumps would be exposed to the often hostile Scottish elements.
INEOS also had stringent site specifications that had to be met as well as needing the pumps on a tight 33 week delivery. Amarinth designed the pumps to withstand temperatures of -20C for the coldest of Scottish winters.
Given the demanding requirements, INEOS also wanted to ensure that Amarinth could provide support on-site for the pumps and so Amarinth sent its trained site engineers to Grangemouth to carry out the installation and commissioning of the pumps. 
Oliver Brigginshaw, managing director of Amarinth, said: "We are delighted with this first order from INEOS which allowed us to apply our extensive offshore experience to this order despite it being an on-shore application. We are noticing more customers requesting on-site commissioning when they place their orders and this provides us with useful feedback from site when we send our trained engineers to carry out this work which we can then incorporate into future designs and enhancements. It is also encouraging to see that the levels of opportunity within the UK offshore and on-shore markets continue to remain buoyant."
 Like this story and want to read others similar to it? Go here tinyurl.com/mzqxupj  to  receive  unrestricted Free access to the content on World Pumps.  Joining will only take a few minutes, and you will gain access to the digital edition of the title's magazine as well as a package of special features, news and much more.