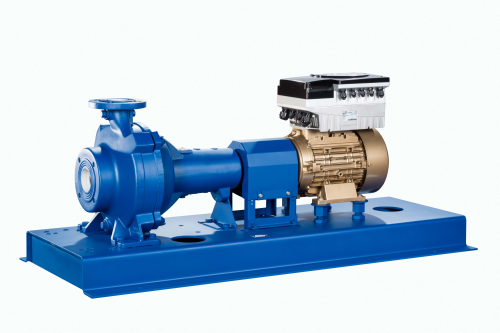 The German firm is highlighting a series of initiatives and launches across its product range.
With its FluidFuture campaign KSB will show the savings potential hidden in hydraulic systems.
It will debut its permanent magnet synchronous drive for six inch submersible borehole pumps. This motor type does not require any current in the rotor to generate torque as the rotor field is created by magnets, eliminating heat loss and boosting efficiency.
The UPA-150-C submersible borehole pump will also be on display. It is designed for use in water supply, irrigation, drawdown of groundwater levels, pressure boosting and fire protection.
The latest design of the synchronous reluctance motor KSB SuPremE will also be showcased. It  will be operating in combination with a dry-installed Sewatec waste water pump and the PumpDrive variable speed system.
Another highlight will be a new variant of the high-efficiency AmaDS³ waste water pump station which combines a dry-installed solids separation system and two waste water pumps. A unit designed for installation in confined spaces will be showcased at Wasser Berlin International.
The event takes place from March 24-27. For more details and free tickets, see www.ksb.de/WasserBerlin2015