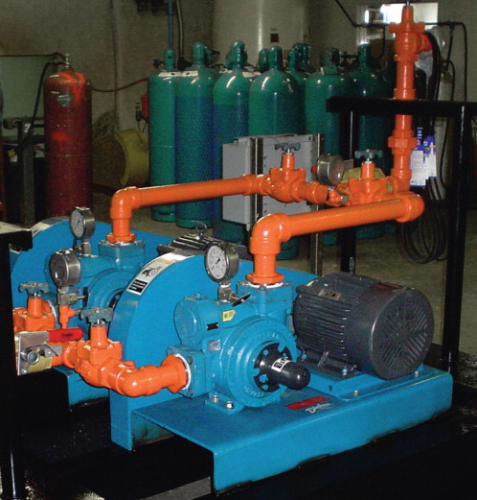 For the chemical plant of pharmaceutical giant Bayer, in Houston Texas, choices came down to either find a way to make it work, or shut an entire plant down until repairs could be made to a damaged pipeline.
Realizing that the second choice was untenable, personnel from Airgas Specialty Products, Duluth, GA, the supplier of ammonia-related services to the Bayer plant, and Gas Equipment Company, Inc., put their heads together in search of a solution, which would have to be able to deliver the ammonia to the plant and transfer it into the facility at 100 gallons per minute at pressures between 200 and 230 lbs ' 24 hours a day for six weeks.
After contracting with common carrier Grammer Industries to deliver the ammonia, it was decided that a skid would need to be equipped with a booster pump that was powerful enough to meet the pressure and volume needs. Roy Nichols, Project Manager, NOx/SCR Ammonia Equipment for Gas Equipment Co., suggested using a Blackmer LGLD3E V-Belt sliding vane pump for the transfer applications.
Blackmer LGL pumps are positive-displacement sliding vane pumps that have been designed to handle liquefied gases under the most severe service conditions. Blackmer LGL pumps are designed with cavitation-suppression liners, replaceable casing liners and end discs, self-priming and dry-run capabilities, relief valves and the easy maintenance inherent in Blackmer's patented sliding-vane pump design. 
Reliable equipment
"We were prepared for failures, and anytime you have an ammonia system running 24/7 you need reliable equipment, and if Bayer lost its ammonia, they'd have to shut the plant down," explained Nichols. "Like they say, if you're going to do the job right, you better get Blackmer the first time."
So, with the ammonia supply, the mode of transportation and the means of getting the ammonia into the plant identified, it fell to Airgas regional manager Butch Johnson to put this temporary operation into action. It helped that most of the Grammer Industries transports were already equipped with 4-inch, hydraulically driven Blackmer transport pumps.
"All I knew was that Bayer had to be provided with 17 to 22 truckloads of ammonia a day, seven days a week, for six weeks, at around 225 lbs of pressure," said Johnson. "The only way I could figure to do it was to bring in two tractor-trailers that acted as temporary storage tanks, build a pump skid using two 3 in Blackmer LGL pumps, tie the pumps together with a manifold, supply the ammonia to the pumps with the 4 in Blackmer pumps on the transports and hope it'd run like a top."
After working through a couple of hiccups in the setup of the system, the final numbers showed that a total of 673 deliveries shipped 21,614,160 lbs of ammonia to the Bayer plant over six weeks of continuous operation and not a single drop of ammonia was spilled. In fact, looking back, the major players in this operation all expressed varying degrees of amazement in what they had just pulled off.
"When you consider that many trucks and not to have any problems, that's pretty amazing," said Johnson. "This is the first time we ever attempted something like this. They could not have a lot of variance in pressure and they needed to have that supply, so we were working under some pretty strict conditions, and we pulled it off."
"The key from the pump standpoint is that for six straight weeks, 24 hours a day, we didn't have a single problem," said Blaine Davis, Engineering Manager for Airgas. "This was very unique, a one-time type of thing and I'm not sure anybody had done something on this scale before for that length. This was not a normal setup by any stretch of the imagination."