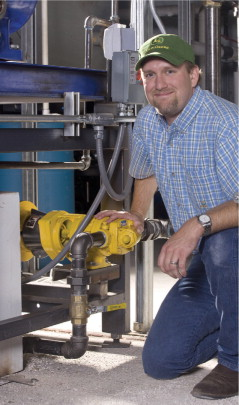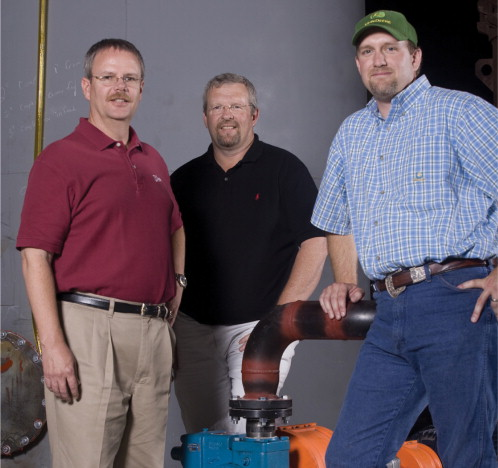 Like many of the other pioneers in the biodiesel industry, Scott Johnson originally began making biodiesel in his garage with some basic equipment and internet know-how. In 2005, Johnson (Figure 1) and his wife Kathy were commuting a combined 440 miles per day and facing diesel fuel bills of more than US$900 per month. Out of necessity, Johnson set up a mini biodiesel production facility in his garage and quickly dropped his fuel bills to only US$350 per month.
Even though the money savings were very beneficial to his family, Johnson still had to endure some scepticism by others in his community. However, after friends and neighbours heard how much the Johnson's were saving on their monthly fuel bills, the scepticism quickly turned into curiosity.
"In a short time, I had more and more people ask me if I could make it for them. I have a big shop at home, so I was going to just build a bigger operation there. But, one thing led to another and people kept on asking for more and more, so it came to the point where a few of us began discussing a full-fledged biodiesel production facility," said Johnson.
In 2005, Johnson, along with four other owners (Figure 2), began mapping out their plan for turning the garage-based operation into one of the largest biodiesel plants in the state of Washington. Just two years after the first batch of biodiesel was made in his garage, Scott Johnson, now President of GEN-X Energy Group Inc. operates a large-scale biodiesel production plant strategically positioned in the southeastern part of Washington.
GEN-X is allowed to provide five million gallons of biodiesel per year, but on paper Johnson estimates the plant could produce 15 million gallons without any modifications. The plant could easily go to 40 million with two more reactors and centrifuges.
Feedstock partnerships
With the Tyson Foods rendering facility located 12 miles down the road, GEN-X has the groundwork in place to acquire enough tallow oil to become a significant producer of biodiesel in the northwestern US.
"Our feedstock backbone is tallow oil from the Tyson Foods rendering plant just down the road. They could supply us with between 5 million and 8 million gallons of tallow per year. There are also a lot of other oil sources around that could be used for another million gallons per year, but Tyson is a key partner for us moving forward," said Johnson. In addition to Tyson, GEN-X is working with farmers and crushers in the area to bring local seed oil into the plant. Johnson also sees a large opportunity to partner with some of the restaurants in the area for used, or second-use oil that would supply about 10,000 gallons per month.
"Another partner that we've signed an agreement with is Westway Feed Products, Inc," Johnson said, "They provide feed to livestock industries in the area. Westway can use our glycerin, which is a byproduct of our biodiesel production process, as a feed source. Therefore, we are closing that loop between the feed, tallow and biodiesel."
Equipment needs
The newly formed company turned to its local distributor, Northwest Pump & Equipment Co. for advice on the proper equipment needed for each application within the plant. Rick Fuqua, Northwest Pump's resident biodiesel expert, consulted with Johnson and immediately began discussing the company's pump options as one of the key components within a biodiesel production plant. Fuqua suggested that GEN-X use the Blackmer ProVane motor speed sliding vane pumps for methanol recovery, caustic, Magnesol and multi oil feedstock-transfer applications. Johnson agreed and installed Blackmer pumps throughout the facility.
"Blackmer pumps are known for their reliability. You can use them in all different kinds of applications and we certainly do just that in this plant," said Johnson. "Another nice thing about Blackmer pumps is that they will benefit us financially. Since they're simple to work on, it's easy to change the vanes and easy to maintain, we don't have to worry about downtime."
In addition to the Blackmer ProVane pumps, GEN-X also uses the Blackmer XL Series of sliding vane pumps for high-speed truck loading and transfer rate applications throughout the plant. Both the ProVane and XL vane pumps are designed for reliable continuous duty in biodiesel production operations. The sliding vane technology used by these pumps provides biodiesel producers with self-priming and suction capabilities. This suction capability can benefit operators by stripping lines of residual product in order to improve production yields and avoid contamination issues.
The sliding vane technology principles of the ProVane and XL pumps ensure proper sealing and volumetric output performance, even after significant in-service time. This eliminates the efficiency-robbing 'slip' that can shorten the life of competitive pumping technologies such as lobe and gear pumps. The ProVane and XL Series provide smooth, sliding vane action without metal-to-metal contact, which reduces pump friction, eliminates galling and minimizes agitation of fluids.
The ProVane provides added benefits to GEN-X and other biodiesel producers due to its many 'designed in' features such as the hydrodynamic journal bearing, a fluid boundary forming principle that eliminates shaft-to-bearing contact. The shaft hydroplanes above the bearing surface on a cushion of liquid. In this hydrodynamic condition there is no metal-to-metal contact or wear and bearing life can be significantly extended. The pump is engineered to achieve hydrodynamic mode faster than any other pump in its class to preserve bearing life. It also maintains optimum bearing characteristics even under a wide range of operating conditions, such as the ones found in the GEN-X biodiesel production plant. Reduced shaft/bearing contact minimizes friction and results in higher mechanical efficiency and smart energy cost savings.
"I've met with several biodiesel producers over the past few years and all of them are very intrigued by the overall efficiencies and energy cost savings you get from the Blackmer pumps," said Northwest Pump's Rick Fuqua. "When you're in the energy-production business, using equipment that reduces energy consumption is certainly important. The Blackmer sliding vane pumps do just that."
The ProVane offers efficiency at low flow rates and allows for higher operating speeds and pressures on low viscosity fluids when compared to other types of PD pumps. The ProVane pump is also capable of low-flow, high-head applications on low-viscosity fluids where centrifugal pumps can't run.
"We have plans to build additional plants and, from day one, we'll install all brand-new Blackmer vane pumps," added Johnson.
Future plans
With a new 18,000 sq/ft2 facility, 11 employees and a brand new company, Johnson and the other owners at GEN-X are already thinking about further developments for the plant.
"All of us are very excited about how far we can take this. Fernando Moreno, our vice president, Ray Benavides, our VP of sales & marketing, Joe Stanton, our director of plant operations, Brian Moreno, a stockholder, and myself are happy to come to work and finally be doing something that actually helps make a difference," said Johnson.
GEN-X would like to open, or partner with a crushing plant and crush seeds grown locally. They are working with several farmers in the area for that goal. Two crushers that work with GEN-X recently started operation and are already at 100% capacity because the price of canola peaked at the same time they opened.
"We are also creating an engineering firm that would be located here. We're going to bring an engineer on board, John Forrest, that has a tremendous amount of experience in the oil industry," said Johnson. "That way, he can focus on engineering projects and we can focus on creating biodiesel."