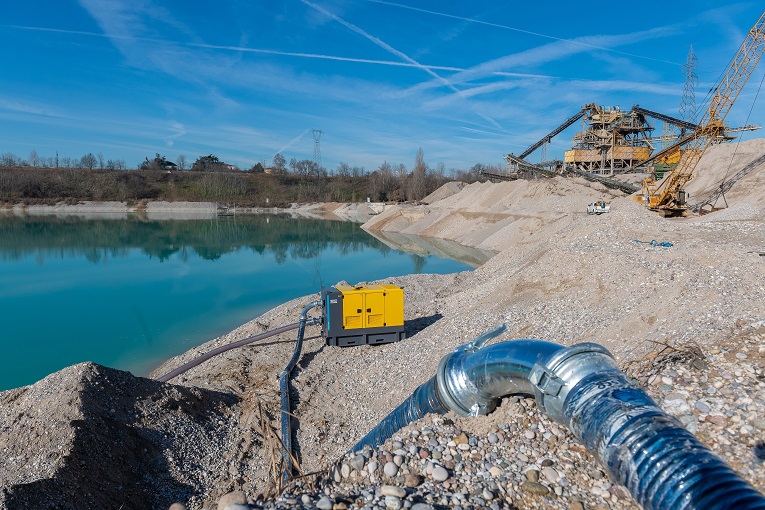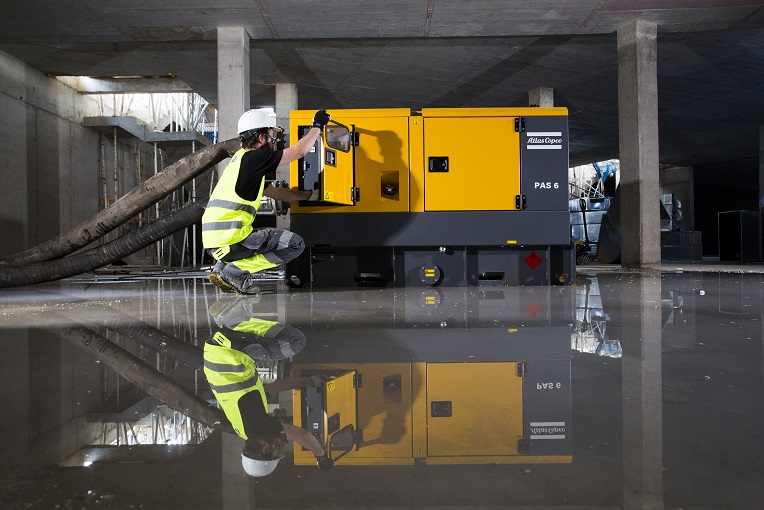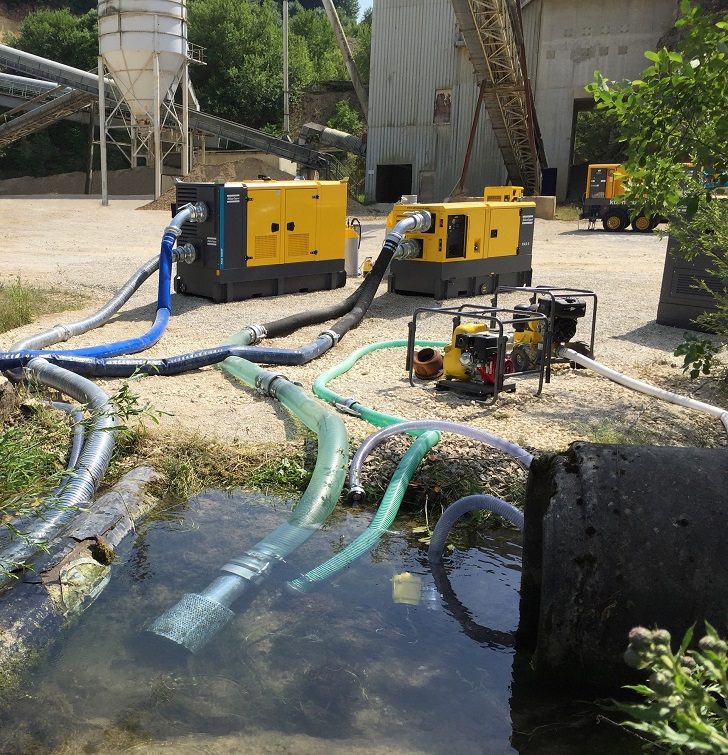 Stage V is an EU programme to reduce harmful emissions from the engines of non-road mobile machinery. While the introduction of stringent new standards may worry some people, others sees it as a driver of improved dewatering pump technology.
Stage V is the culmination of an important EU programme, beginning in the late 1990s, to reduce harmful emissions from the engines of non-road mobile machinery. It applies, for instance, to earthmoving machines and other equipment typically found on construction sites, such as mobile generators, compressors and dewatering pumps.
Why good news? Let's take pumps as an example. The need to comply with increasingly tighter emission limits has generated powerful new products which are more fuel-efficient, compact, portable, reliable and durable, with lower lifetime costs. What more could you ask for in a pump? Similar benefits can be found in other machines developed to stay ahead of the clean-running curve.
To those wins, you can add a healthier workplace and, through your reduced carbon footprint, environmental sustainability. Atlas Copco stresses that all these advantages can be made available to the users without major complication or expense and is ready to advise users on their path to compliance.
Not surprisingly, as a manufacturer of engine-powered generators and compressors as well as pumps, Atlas Copco has taken a keen interest in Stage V and its predecessors. Close co-operation with the engine manufacturers has ensured that the practical needs of equipment users are fully understood and met.
Increasing stringency The key pollutants regulated by this and earlier legislation are nitrogen oxides (NOx), hydrocarbons (HC), carbon monoxide (CO) and, from diesel engines especially, particulate matter (PM). Particulate matter consists mainly of soot particles but also includes oil residues. Each successive stage in the legislation's incremental development has set new limits for specific substances and applied them to engines of specific types and power ratings. 
Stage V covers a wider engine scope than before. For the first time, compression ignition (CI) engines below 19 kW and all engines above 560 kW are included. Still covered are CI engines between 19 and 56 kW, and all engines between 56 and 560 kW, so Stage V spans the full power range.
Compared to Stage I, introduced in 1999, Stage V has cut permissible levels in exhaust gas by about 96–97%. It now limits not just the overall mass of PM but the number of particles emitted – the particulate number (PN). (Although engines below 19 kW or above 560 kW have no PN limit.)
The new regulations came in from January 2019 for engines below 56 kW and from 130 kW upward. For the rest, Stage V will be implemented in January 2020. Stage V applies across the EC and it is expected that other countries, including the post-Brexit UK, will adopt the same standards.
Clean technologies Emission-reducing technologies which can be mixed and matched to meet legislative demands include: • Selective catalytic reduction (SCR) – using catalysts such as urea or diesel exhaust fluid (DEF) to reduce NOx • Diesel oxidation catalyst (DOC) – converting HC, CO and some other emissions into less harmful substances • Ammonia slip catalyst (ASC) – removing leftover ammonia from the SCR process • Exhaust Gas Recirculation (EGR) – lowering peak temperature of combustion to reduce NOx and PM production • Diesel particulate filter (DPF) – trapping particles • Exhaust after-treatment system (EATS) – a combination of elements from the above list
Bear in mind that lower fuel consumption, from more efficient engines, also means lower emissions. A common-rail fuel injection system not only increases fuel efficiency but optimises combustion and reduces noise. In smaller engines we will be seeing common-rail fuel systems and EATS for the first time. Meeting new particulate limits in any diesel engine between 56 and 560 kW is unlikely to be possible without a DPF.
Dewatering When it comes to dewatering pumps, Atlas Copco has already spent more than 140 years developing smaller and lighter units with increasing efficiency, reliability and durability. Stage V compliance is an extension of that work. Long-term advanced scheduling of each set of emission limits has helped pump and engine manufacturers in their future planning.In addition to surface dewatering pumps, which have integrated engines, Stage V has implications for the power supplies of Atlas Copco's submersible dewatering pumps. Designed to be totally submerged, they are suited to many applications and are particularly useful where a surface pump would require a large suction lift.
The company has worked closely with engine manufacturers to ensure Stage V compliance of its air compressors, which power the pneumatic submersible pump range, and its mobile generators, powering the hydraulic submersible pumps. Meanwhile, its electric submersible pumps, which are unaffected by Stage V when powered via mains electricity, continue to grow in capability.
Both surface and submersible dewatering pumps come in a wide variety of types and capacities, covering different needs. Applications include emergency flood relief and routine removal of groundwater from construction, quarrying and mining sites. Surface pump options for lowering groundwater include specialised well-point pumps. Along with relatively clean water, there are surface and submersible pumps which handle sewage and other viscous liquids with a high solid content.
Stage V for pumps Amongst Atlas Copco's centrifugal and piston surface pump line-up, the challenges of Stage V can be illustrated with reference to PAS centrifugal dry prime pumps. Thanks to a suction system which avoids the need for manual priming, they begin pumping  as soon as you turn the switch. Fast flow rates, if needed, combine with high lift capabilities and great energy efficiency.
Engine power ratings vary between PAS models depending on the flow rates required. Many of the existing high-flow models, rated up to 160 kW, have Stage IV engines. Upgrading these to Stage V is relatively straightforward. Stage V compliance for the medium-flow pumps is more challenging, since they are currently fitted with Stage 3A engines. As new products emerge, with maximum outputs up to 400 kW, Stage V engines will be specified as standard. 
While co-operating to integrate new engines optimally within dewatering pumps, Atlas Copco's engineering and design teams have taken the opportunity to insert new technology. A key aim has been to optimise power nodes for maximum performance and reliability. One outcome is refinement of impellers and casings, enabling new Stage V engines to generate high rotation speeds even when pumping difficult liquids. In this and other ways, pumps will perform more powerfully, efficiently and dependably over a longer lifetime.
Size and weight are always important to pump users, as they affect portability and ease of use. In modifying engines and pumps for Stage V, designers are seeking stronger, lighter materials and innovative approaches to saving space and maximising flexibility.
Another area explored is digitalization. Telematics systems like Atlas Copco's FleetLink can remotely monitor pump performance and condition, quickly, accurately and continuously. Together with the latest digital monitoring aids, like geo-fencing, remote function lockout and automatic reporting, they save time and money by optimising pump fleet usage and maintenance. For even better information, there is potential to install more compact, higher-powered sensors with faster data connection.
A better future In conclusion, an extra level of emission regulation which might have seemed like an obstacle to ­businesses has become a powerful spur for innovation. It is producing dewatering pumps which use less fuel, are easier to transport and operate, and give better performance, reliability and economy over a long lifetime. With its practical understanding of the issues, Atlas Copco is keen to help users  steer a clear path through Stage V and beyond.