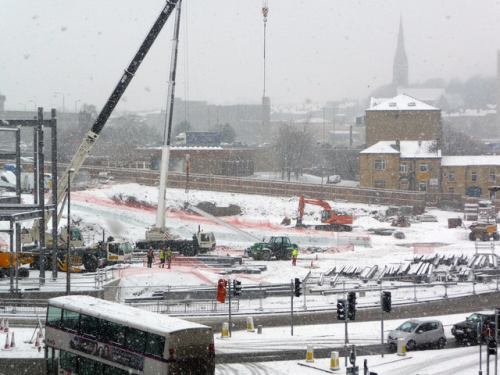 With the clocks going back and temperatures dropping, there's no doubt that winter has arrived, which inevitably means that businesses have new health and safety issues to deal with.
This is a particularly fraught time of year for the construction industry, with building sites - which are hazardous places at the best of times - becoming even more dangerous in the colder months. As we've seen in previous years, winter is also a busy period for pump manufacturers, with the demand for heat and water pumps rising sharply once weather conditions take a turn for the worse.
Although the latest figures published by the Health and Safety Executive (HSE) show that the number of fatal injuries being reported in British workplaces has fallen to the lowest level on record, this is no time for anybody to take their foot off the gas and assume that the job has been done. Regardless of your line of work, it's imperative that you take every measure possible to safeguard your staff and the general public in the coming months.
The construction industry
In 2013/14, 42 people died while working in the UK's construction industry. Although this was nine per cent lower than the average figure of 46, the figure is still far too high.
Regardless of your role on a building site, you need to ensure that you're on top of your health and safety obligations. Icy conditions can cause havoc for people as they move around site, and can also create untold problems for forklift truck and lorry drivers. Make sure your public walkways are adequately segregated from your transport routes, and take it upon yourself to distribute grit and salt throughout the day, especially in the morning.
One aspect of construction site health and safety that often gets overlooked is welfare facilities. The main contractor on a site is legally obliged to provide sufficient washroom facilities, including showers and hot water, as well as a rest area that is warm. The HSE has been upping its efforts to penalise companies that flout these particular regulations, so businesses should be aware that the matter is being taken seriously.
This is another reason why pump manufacturers and heating specialists are so busy at this time of year. In theory, a building site could be forced to close if the heating system in the restrooms suddenly breaks down. To many, this is unthinkable as we assume that builders are resolute and will stop at nothing to get the job done, but this is an outdated, stereotypical view of the industry. Even though they often work outdoors, and as such need to acclimatise to adverse conditions to a certain extent, construction workers still have the right to work in a safe, hospitable environment.
With the threat of big fines hanging over their heads for failing to meet deadlines, major building corporations are desperate to ensure that heating engineers are readily available, as they can ill-afford any hiccups that could force work on their site to be postponed.
Freezing conditions
From a health and safety perspective, the onset of freezing conditions can make life extremely difficult. It's already been established that construction companies are faced with different challenges in the winter, and the same can be said for those who design, operate and maintain heat pumps. The Workplace (Health, Safety and Welfare) Regulations 1992 set out the minimum temperatures that businesses across the UK must provide for their workers. With the HSC Code of Practice dictating that workplaces must be at least 16 degrees C when employees are present, it goes without saying that a broken heating system can prove to be a health and safety nightmare.
Separate legal requirements are also in place to govern the minimum temperature of school buildings. This can vary depending on the type of classroom in question (the minimum requirement for a gym is obviously going to be lower than a mathematics classroom, for example), though it's generally accepted that the average minimum temperature of a classroom is 18 degrees C.
It's easy to underestimate the levels of disruption that frozen pipes and damaged heating systems can cause when you map out your health and safety plans, but the potential loss of revenue incurred from having to close down your workplace for a day or more will ensure that managers take this problem seriously in the future.
It's also vital that you make provisions for employees who are working over Christmas. In many cases, companies like to sanction a complete shutdown throughout the festive period, but it's inevitable that one or two staff members will need to keep things ticking over. Even if you only have one employee out of a 200-strong workforce coming in over Christmas, you're still obliged to ensure they have a comfortable environment to work in.
Ground source heat pumps - a handy solution?
Advancements in pump design are helping employers to find more reliable heating solutions, thus ensuring they're complying with the aforementioned regulations surrounding the temperature of work stations.
Ground source heating pumps are being used more commonly, as they are deemed to be more economical and reliable than older systems. They work by harnessing natural heat from underground by pumping water through it, and by using this ambient heat, they are a much greener alternative than a pump that is ultimately powered by fossil fuels.
While the initial installation of ground source heating pumps can be costly, the Energy Saving Trust estimates that a typical pump could save you up to £2,000 a year. There are various financial packages available to help with the initial expense of installing one of these pumps, so they are certainly worthy of consideration, even if it's just to give you more peace of mind from a health and safety point of view.
Carbon monoxide
This is the time of year when heating systems are put through their paces, and NHS statistics show that around 40 people die every year because of suspected carbon monoxide poisoning.
Anybody who works with pumps will be aware that the release of carbon monoxide - especially from engine-driven pumps that are kept in an enclosed space - is a real problem that cannot be ignored. While heat pumps are becoming more advanced and economical, manufacturers cannot afford to ignore the threat of carbon monoxide. Make sure that areas containing these pumps are well ventilated.
Don't pressurise staff to travel
Even if there is no problem with your business premises, you can't legislate for the condition of the UK's roads. We've seen in previous years that road casualty rates increase between November and March, and figures published by Kia indicate that 48 per cent of winter car accidents are a result of skidding.
Implement an adverse weather policy and communicate this with your staff. From a health and safety perspective, if the official advice from the government is to avoid any non-essential travel, you should not put undue pressure on your staff to make their way into work. In some cases, an employer can be faced with legal action if it is proved they forced their workers to travel in unsafe conditions.
Stay on top of things
Just because you've had a good health and safety record over the past six months or so, that doesn't mean you can get the proverbial cigars out.
As we've established, health and safety obligations change dramatically between seasons, and there are numerous reasons why winter is a particularly tricky time for everybody. It's easy to underestimate just how many different health and safety obligations companies have to meet during the winter months, so make sure you are meticulous when piecing together your workplace safety policies. This advice applies to businesses across a wide range of industry sectors.
We've outlined the increasing importance of developments in the pumps industry at this time of year, and as more sophisticated heat pump systems come into play, employers will inevitably find it easier to abide by laws such as the Workplace (Health, Safety and Welfare) Regulations 1992.
Stay on top of your health and safety strategy all year round, and don't be afraid to make certain amendments during the colder months.