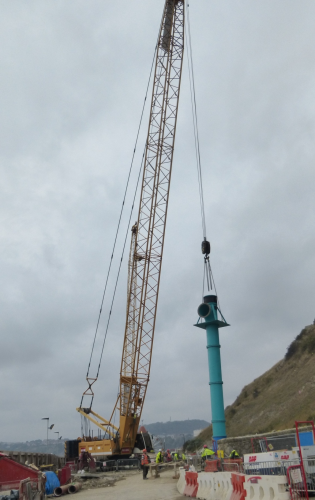 A new European Bathing Water Directive is due to come into force in 2015 and this investment should ensure an 'excellent' standard for water quality with the ability to secure some coveted Blue Flags for Yorkshire's beaches.
Toll House Sewage Pumping Station in Scarborough is the first to benefit from Bedford Pumps expertise with three suspended bowl pumps for pumping storm water. Toll House SPS is located on Scarborough's peninsula in an extremely challenging location, and as such is Yorkshire Water's most significant project in Scarborough, costing the company approximately £10 million at this site alone.
The pumping station will encompass a new storm water storage tank capable of holding 400m3 of storm water, which will minimise the risk of any untreated water entering the sea during heavy rainfall. Bedford Pumps have manufactured three colossal storm transfer pumps which will discharge the excess storm water from the storage tank out to sea.
Bedford's three Storm Water pumpsets (one duty, one assist and one standby) are of a Mixed-Flow Bowl design with steel rising mains, support plates and motor stools. As Toll House pumping station is situated on the coastline, the open, mixed-flow impellers have been manufactured in bronze to address the potential corrosion problems associated with the saline environment. Each pump is designed to discharge at 3,440 l/s at 10.1m head with a BEP of 86%, and driven by a 12 pole 450 kW motor.
Bedford Pumps will shortly commence the second of the trio of pumping station upgrades for Yorkshire Water. Scalby Mills Pumping Station, also situated in Scarborough, will be supplied with four wet well submersible volute pumpsets for handling raw/screened sewage. The order offered Bedford Pumps a challenging design criteria requiring the pumping of solids and stringy material whilst discharging at high heads with low vibration levels. The pumps will deliver a duty of 443 l/s each at a head of 67.6 m, making Scalby Mills probably the largest submersible sewage station in the region in terms of power.
The third and final pumping station to benefit from Bedford Pumps expertise is Bridlington Wastewater Treatment Works, which will require four suspended wet well bowl pumps for storm water protection. The construction will be similar to the Toll House units and designed for a duty of 2,500 l/s at 8 m head and driven by 288 kW 12 pole motors.
Bedford Pumps are delighted to be working once again in collaboration with civils contractor Morgan Sindall Grontmij (MGJV) and are happy to be providing Yorkshire Water with three pumping station upgrades to ensure that the beautiful Yorkshire coastline remains exactly that.