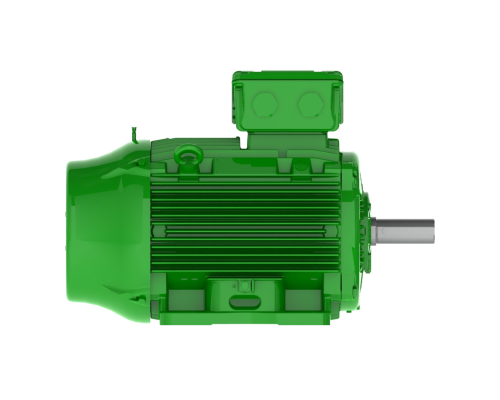 The digital edition of the magazine is distributed free of charge to readers who meet our qualifying criteria. You can apply to receive your free copy by completing this short registration form.
The Water-link project in Belgium, delivers nearly 190 million m3 of water to over 700,000 customers annually. As part of the project, a new drinking water pipeline has been laid to water company TMVW in Buggenhout, Belgium. Critical to the pipeline are six high-efficiency WEG W22 motors which have been integrated into pumps supplied by KSB.
Antwerp Water Works (AWW) began working with TMVW on the Water-link project in 2010. AWW produces drinking water and the company has a large number of industrial customers, whereas TMVA has a large-scale distribution network with considerable expertise in the sewerage sector. Together they are supplying high quality water throughout Northern Belgium.
To improve water supplies, AWW decided to invest in its production centre in Walem. The first phase, which started in September 2012 and was completed in September 2013, was the construction of a new pumping-station. The station is designed to boost the flow rate from Walem to TMVW to a peak capacity of 165,000m3 per day. To achieve this, it required six new pumps in the station.
Omega drinking-water pumps
The tender to supply the equipment was won by KSB who has supplied Omega drinking-water pumps, which include motors, for this project. The pumps are large and can achieve a capacity of 6,815m3 easily, and each pump is fitted with a motor with an output power of 315 kW.
Jan Van Laer is involved in the project on behalf of KSB. "Price obviously had a key role to play when awarding the order, but the client also gave careful consideration to long-term costs and performance. That is why they asked us to choose energy-efficient IE3 motors rather than standard motors."
KSB surveyed the market to meet the requirements set by Water-link, and choose WEG W22 motors for their high-efficiency and reliable high performance operation.
"It was also important to be able to control the motor frequency. We have previously worked with WEG and have been delighted with the performance of their equipment. In the past, we were mainly involved in industrial projects and this is the first time we have joined forces on a project in the drinking water sector. We were impressed with the price, performance and flexibility of supply," continues Jan Van Laer.
Progressive company
WEG is a progressive company with a broad product range of equipment. Legislation has been in place since June 2011 which dictates that standard electrical motors between 0.75 and 375 kW must comply with higher efficiency levels (IE2), and they are required to meet the IE3 standard after 1st January 2015. However, WEG already has a product range with a standard squirrel-cage induction motor, that meets the yet to be implemented IE4 regulations.
The pumps integrated into the project by KSB are Omega drinking-water pumps. Jan Van Laer continues: "Longitudinal, single-stage centrifugal pumps deliver high levels of performance in transporting water. They are characterised by their versatility and the facility for realising high energy savings, and are ideally suited to pumping clean, unpurified, wastewater and seawater. The pump has low resistance, which results in reduced energy consumption and life cycle costs."
"The generously dimensioned components and smooth performance give excellent and durable operation, and the low-maintenance design ensures short downtimes. CFD-optimised graphs guarantee high performance levels and very favourable net positive suction head values."
Second phase
A second phase of construction will now take place in Walem, with a new production unit which has a capacity of 150,000 m3 per day being built. The new production process replaces the original pipeline and comprises a flotation, double-layer filtration, active carbon filtration followed by UV disinfection, enabling AWW to have sufficient production capacity to supply its partners with high-quality water.  
The digital edition of the magazine is distributed free of charge to readers who meet our qualifying criteria. You can apply to receive your free copy by completing this short registration form.