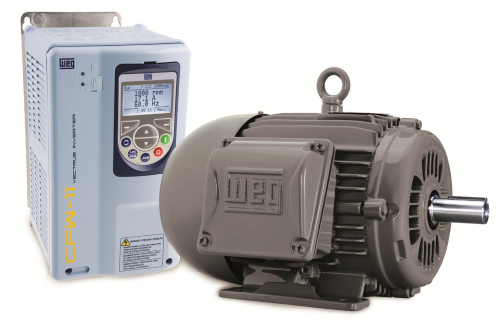 WEG,will present its new permanent-magnet motors in the W22 series at Hannover this year (Hall 15, Stand F11). With a rated efficiency of 96.6% and lower losses than IE4 motors, they are among the first commercially available motors that conform to the recently formulated criteria for a potential IE5 energy efficiency class.
WEG will also be showing its upgraded W22x series of explosion-proof motors, which are now available in IE4 versions on request as well as standard IE2 and IE3 efficiency classes.
For mechanical and plant engineering firms, it's time for action because EU Motor Efficiency Regulation EC 640/2009 stipulates that starting in 2015 or 2017, IE3 induction motors, or alternatively IE2 motors driven by frequency converters, must be used in most industrial applications.
Users can comply with the regulations with the W22 IE2 motor in combination with a frequency converter in the CFW 11 or CFW 11M series, or by opting for the direct approach of a W22 motor with an IE3 or IE4 rating.
The upgrade of the W22x series of motors for explosion-proof applications is also motivated by considerations of energy efficiency and the Motor Efficiency Regulation. Up to now special applications such as explosion protection have been exempt from the efficiency regulations for standard induction motors.
Additional product highlights at the Hannover trade fair expand the existing portfolio to include the high-performance gear units and gear motors of WEG's subsidiary Watt Drive.