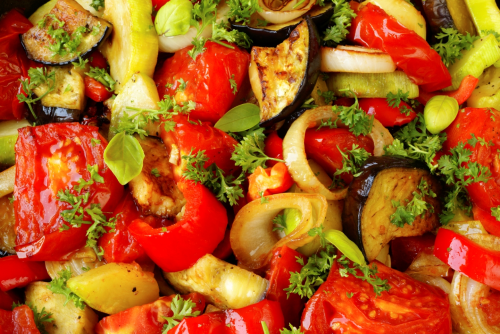 Two Busch Dolphin LX liquid ring vacuum pumps have been supplied to 2 Sisters' Cavaghan & Gray manufacturing facility in Carlisle, which produces savoury products used in ready meals such as ratatouille, white wine sauce and other savoury fillings. These products are supplied to 2 Sisters' customer base which includes some of the UK's leading high street food retailers and food service providers.
The two Dolphins are close-coupled and used within the production process where vacuum quickens the cooking time and enables the products to be perfectly cooked at a lower temperature, which in turn means less energy is used. Liquid ring vacuum pumps are particularly appropriate for applications such as this where there are large amounts of water and steam involved in the process as the performance of the pump is unaffected and any moisture is simply absorbed and discharged.
Mark Sumnall, UK sales director for Busch, said: "We work with a number of 2 Sisters' sites across the country and it is great that our products are being successfully used at the Cavaghan & Gray site for the manufacture of some of the UK's top quality ready meals.
"Our Dolphin liquid ring vacuum pumps are particularly appropriate for cooking applications such as this as they can easily cope with the steam and water generated from the process while at the same time delivering excellent performance and energy savings for our customer."
Minimizing energy costs
Matt Soden, category buyer for engineering for 2 Sisters Food Group, said: "To create a quality product we need quality equipment that can cope with a high moisture production environment, while also keeping our energy usage and costs to a minimum. Installing the Busch Dolphins means we are able to deliver first class savoury products that are cooked to the best possible standard while also meeting our energy use reduction requirements."
With its proven compression principle meaning it is suitable for a wide variety of industrial applications requiring a vacuum pump, in addition to food processing Dolphin is used in the chemical and pharmaceutical sectors, plus timber treatment and plastics. In particular, critical applications such as evacuating humid gases or vapours are achievable without difficulty.
Dolphin's liquid ring technology works with just one moving part, the impeller shaft assembly, which is mounted eccentrically relative to the casing. The liquid ring is formed by the service liquid, which is normally water, rotating concentrically.
Process gas enters via the suction port and travels between the impeller blades and is compressed prior to ejection through the discharge port with a quantity of service liquid.
Particularly suitable for the handling of wet/corrosive process streams, the company says other benefits of the product are robust construction, minimum heat emission and low maintenance requirements.
The 2 Sisters Food Group
The 2 Sisters Food Group was established in 1993 by chief executive Ranjit Singh and remains a privately owned company. Over the years it has evolved from a small scale poultry cutting operation to a world class food company, serving the retail, food service and manufacturing sectors. 2 Sisters supplies some of the leading names in British food retailing including most major supermarket chains and food service customers.
Today 2 Sisters is a diversified food manufacturer with strong market positions in poultry, red meat, chilled, bakery and frozen categories and has 47 sites in the UK and Ireland, six in Holland and one in Poland. With 57 companies operating in 39 countries and more than 2,600 employees, Busch is the global market leader for vacuum and overpressure pumps for a wide range of applications, including food, pharmaceuticals, oil & gas, woodworking, printing and packaging, and offers a comprehensive product portfolio. As a pioneer in vacuum packaging, in 2013 Busch marked its 50 year anniversary by celebrating half a century of continuous quality, innovation and service to become the premier supplier of vacuum and over pressure equipment.